---
Scarlett Johansson, newly single in Valentino at the Guys Choice: cute or meh?
Posted: 05 Jun 2011 08:10 AM PDT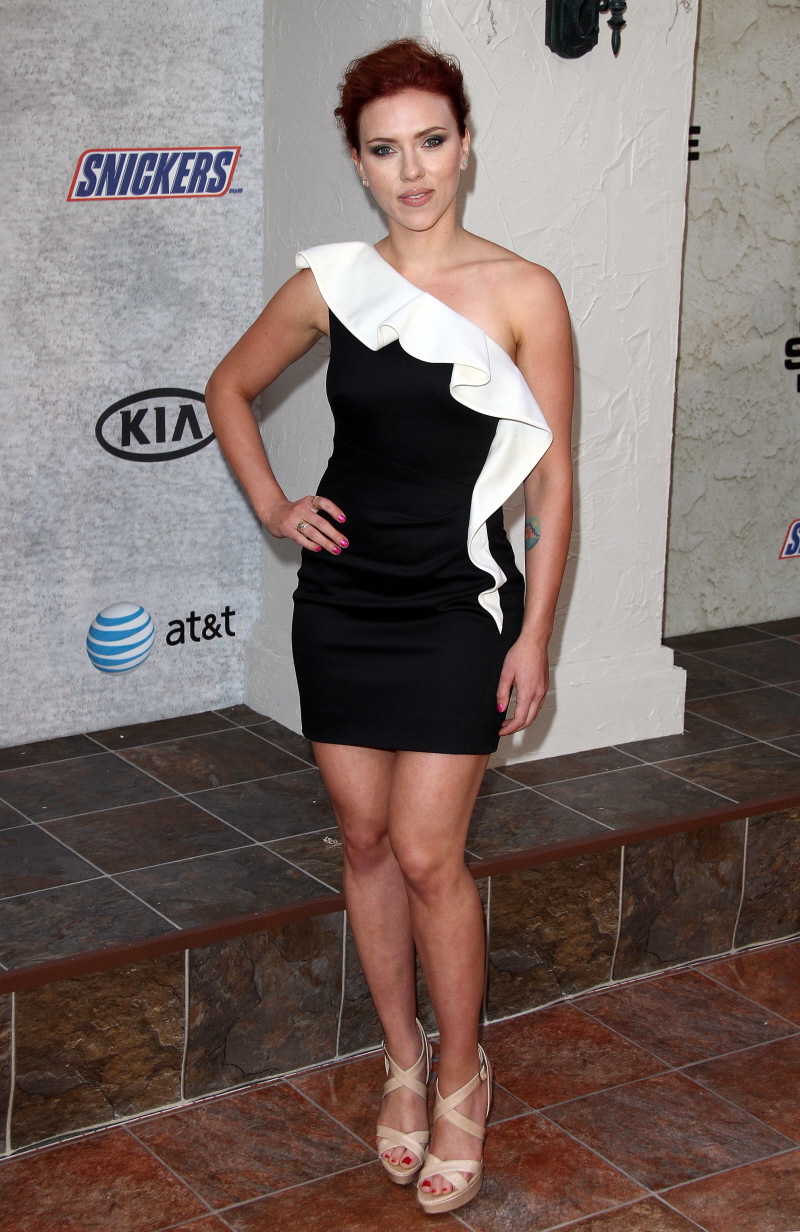 Here are some new photos of Scarlett Johansson, fresh from her split with Sean Penn. Honestly, though, I'm kind of thinking that the split happened before the Cannes Film Festival, which means that Scarlett has been single for nearly a month. Which means she probably already has another dude lined up, in my opinion. Anyway, these photos are from last night's Guys Choice Awards, which… won't air for a while, I think. You might remember that Jennifer Aniston was chosen as "The Decade of Hotness" Award (and she looked super drunk at the event too). Scarlett chose red hair for the event (because she's currently working on The Avengers), and this totally dated-looking Valentino. You know what this dress reminds me of? Julia Roberts' "fancy dress" in the classic film Mystic Pizza. Beyond the dress, I kind of think Scar looks like total crap. She's obviously been training hard for The Avengers, and she's lost a lot of weight really fast, and it's made her look kind of drawn and tired. The red hair doesn't help either - it doesn't really suit her, in my opinion.
And as it turns out, Sean Penn was also at last night's Guys Choice Awards, but most people claim that ScarJo and Sean carefully avoided each other:
Newly single stars Sean Penn and Scarlett Johansson avoided a face-to-face reunion on Saturday (04Jun11) as the former lovers both attended the Spike Guys' Choice Awards in Los Angeles.

The actors were said to have enjoyed a brief romance before news of the break-up emerged earlier this week (03Jun11).

But there was no awkward meet-up at the glitzy California bash - Johansson walked the red carpet, while Penn arrived late to accept an award from Robert De Niro as his 1982 movie Fast Times At Ridgemont High was inducted into the Guy Movie Hall of Fame.
Johansson opted not to talk about her love life to reporters and instead turned the focus onto her latest movie project.

The actress looked sensational in a black and white Valentino gown as she arrived at the Sony Studios in Culver City alongside Justin Timberlake, Mila Kunis, Jennifer Aniston and Cameron Diaz.

Scarlett was keen to impart an insight from the set of The Avengers, a canny move considering the moribund status of her movie career versus her fervid love life of late.
She told Just Jared: 'I just flew in from New Mexico, where I've been shooting The Avengers. A bunch of the cast is here tonight but I'm here to support the troops. Chris Evans and I are presenting.'

'We're right in the middle of scenes and figuring a lot of stuff out. I've been training a lot and doing all sorts of exercises.'
[From Contact Music & The Mail]
So far there hasn't been much speculation about Scar and Sean's breakup, I guess because no one really thought they would last anyway. I would love to know what exactly went down, especially considering that Scarlett had moved in with Sean so quickly. E! news had one of the few post-split analysis pieces - you can read it here. They basically say that Sean's family (including his mom) urged him to drop Scarlett as their relationship became more and more tabloid. They also say Sean probably still has feelings for Robin Wright, and Robin and her boyfriend just split up too, perhaps meaning that Robin and Sean might try to reconcile again.
By the way, Justin Timberlake was at the Guys Choice show. You know he and Scarlett had a thing way back, and I kind of think he'd like to try it again.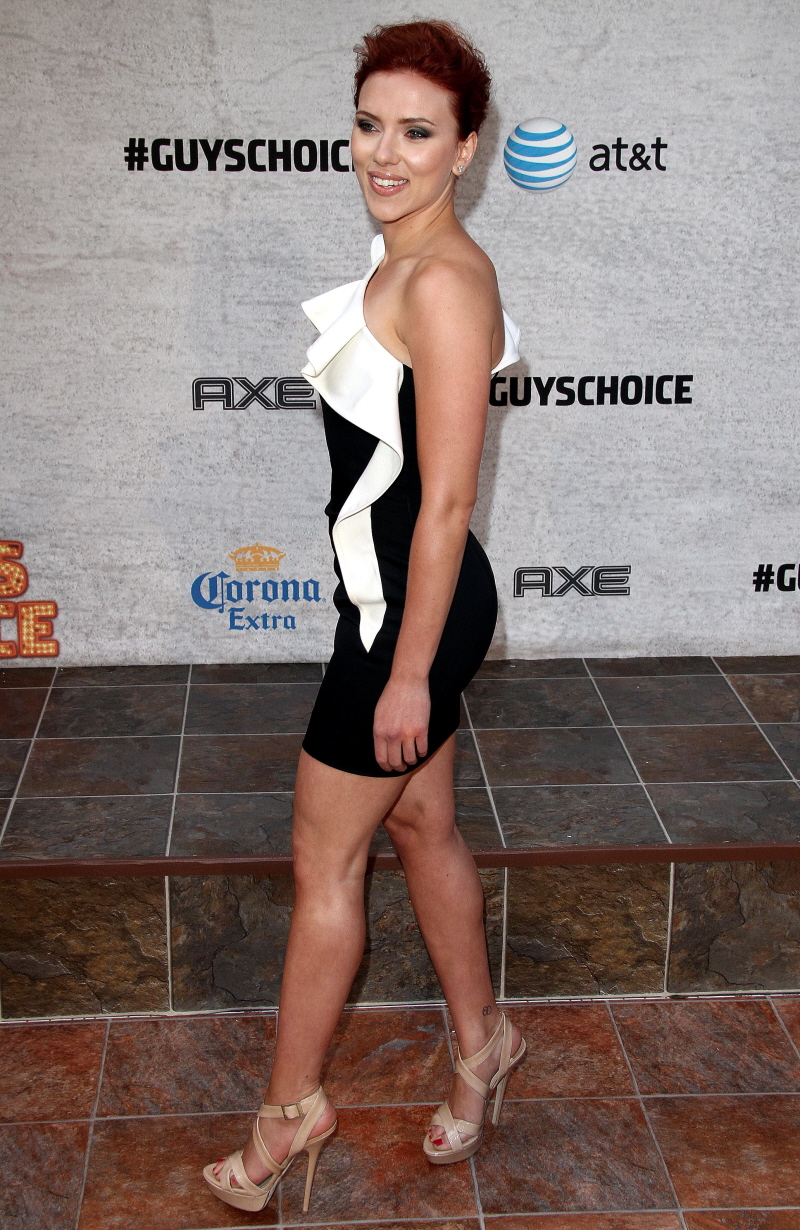 David Gandy has a new girlfriend, and she seems like a dumb famewhore
Posted: 05 Jun 2011 08:09 AM PDT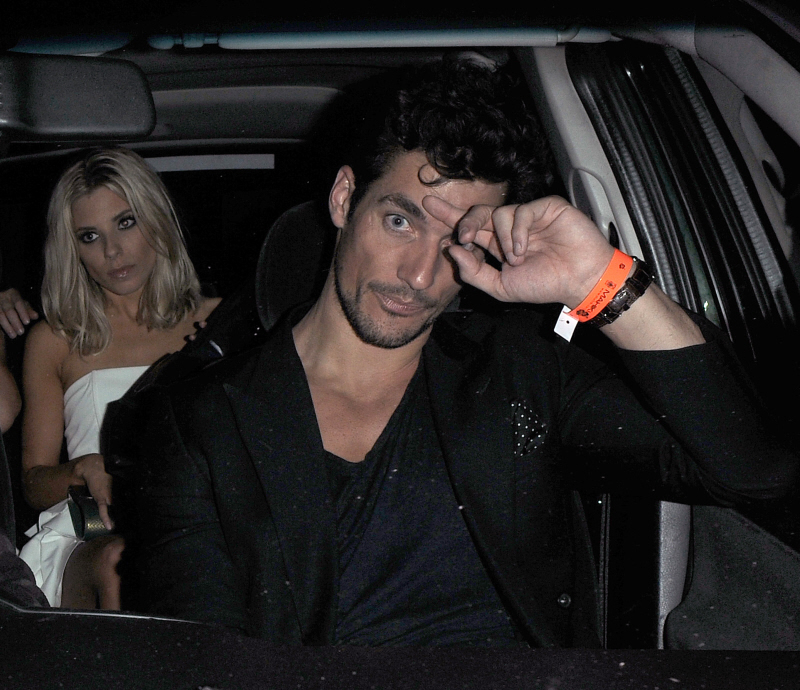 Forgive me for not seeing this story sooner! I know some of you are going to start yelling "WHO?" and I totally agree. These are photos of David Gandy, the biggest male model working today (who is incidentally British, gorgeous and one of my Forever Dongs) with his new girlfriend. Her name is Mollie King, and go ahead and scream "WHO?" at me. She's a British celebrity, someone who I guess was "discovered" on The X Factor and is now a successful pop artist with her girl-group, The Saturdays. She's 24 years old.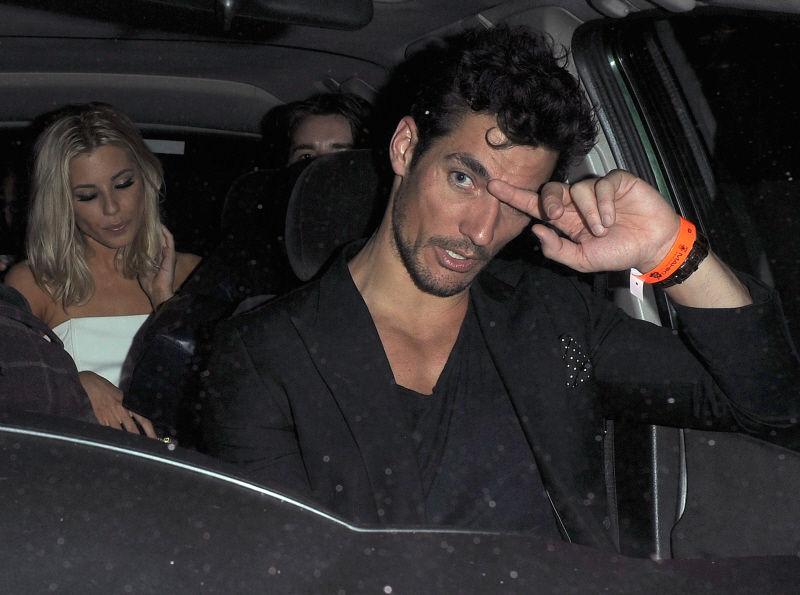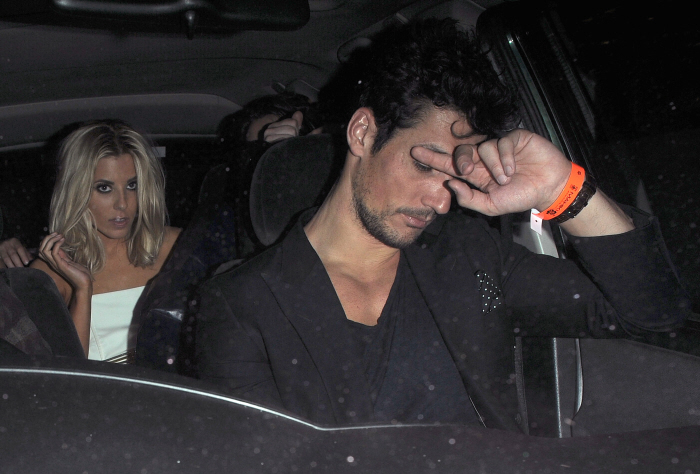 Now… I just saw some of these photos of David and Mollie together, but apparently they've been dating for a short while now, because I found some photos of them from last month too. Last I heard (or last I was paying attention), David was possibly/probably boning model Lily Cole, the one with the sketchy kewpie face. Incidentally, Lily might have dumped Gandy for Jude Law, so… WTF?
Back to David and Mollie… ugh. I expect my beloved British Celebitches to come in and tell me what Mollie's deal is. From what I can find, she already seems like a straight-up Kardashian-esque famewhore who is already giving interviews about Gandy. She told the News of the World that Gandy "is really funny. He made me laugh straightaway. He doesn't take himself too seriously, I wouldn't like it if he was a poser. He takes the mickey out of me all the time and how tiny I am. He's used to working with model girls who are all 5ft 10in so he's always like, 'Aww, you're so cute with your massive heels.' David and I are having a lot of fun. He's just as good looking in the flesh. He's a very good looking guy so I've never seen him looking bad. He wouldn't be able to say the same of me I'm sure!"
What the hell, Gandy? I realize that he mostly socializes with other models and some of the B-list celebrities of England, but surely he could do much, much better than this, right?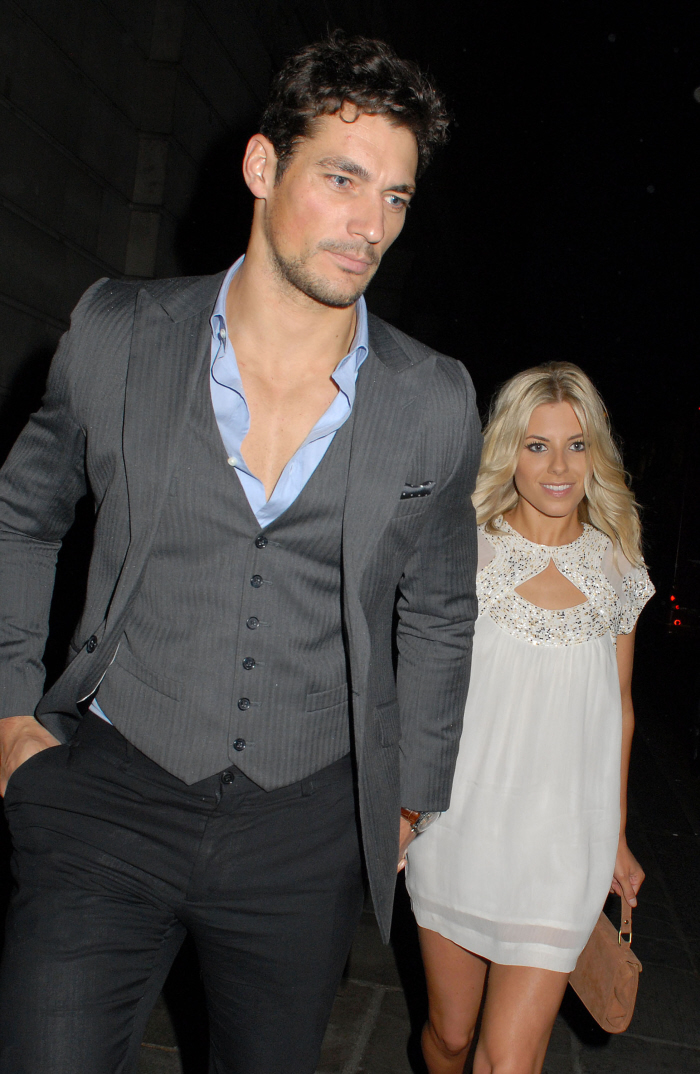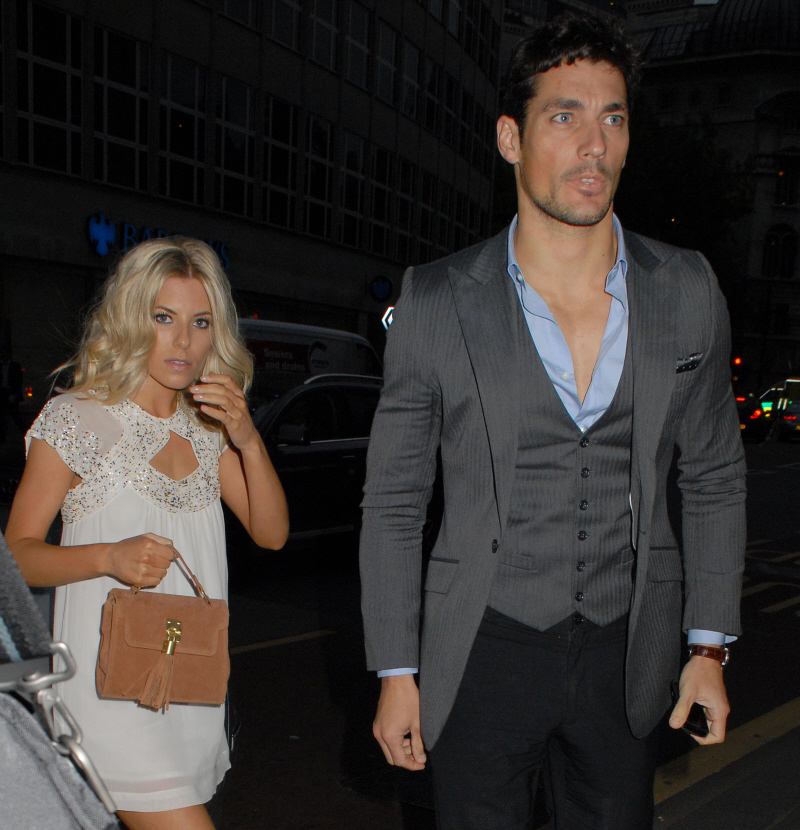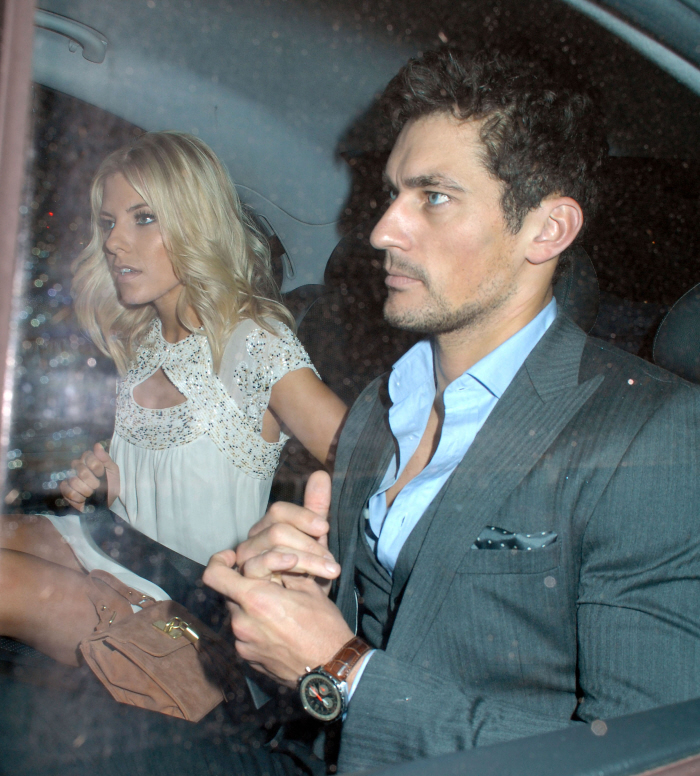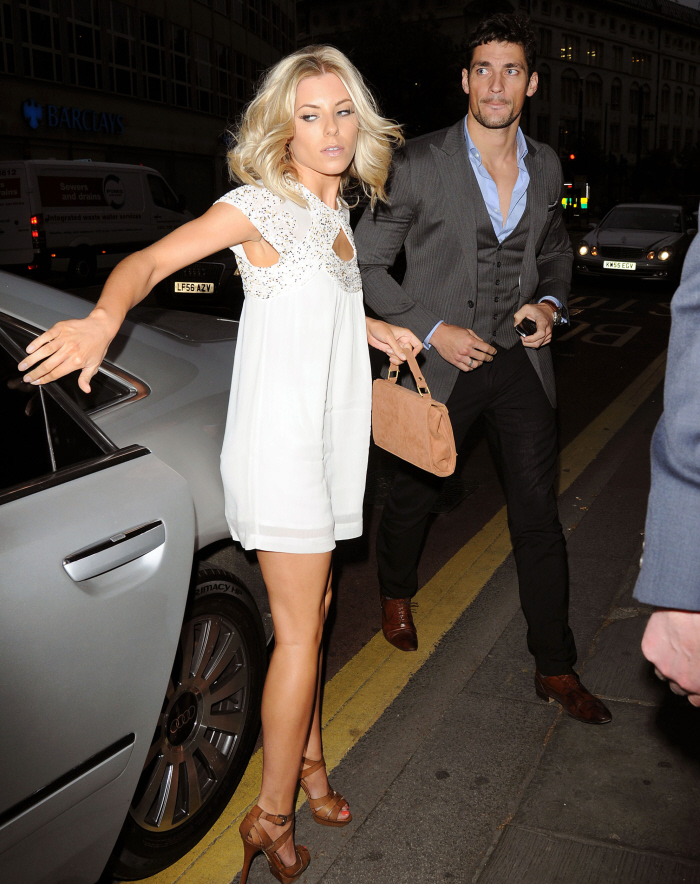 Christina Aguilera's drunk-face & drunk-ensemble: total drag queen mess?
Posted: 05 Jun 2011 07:41 AM PDT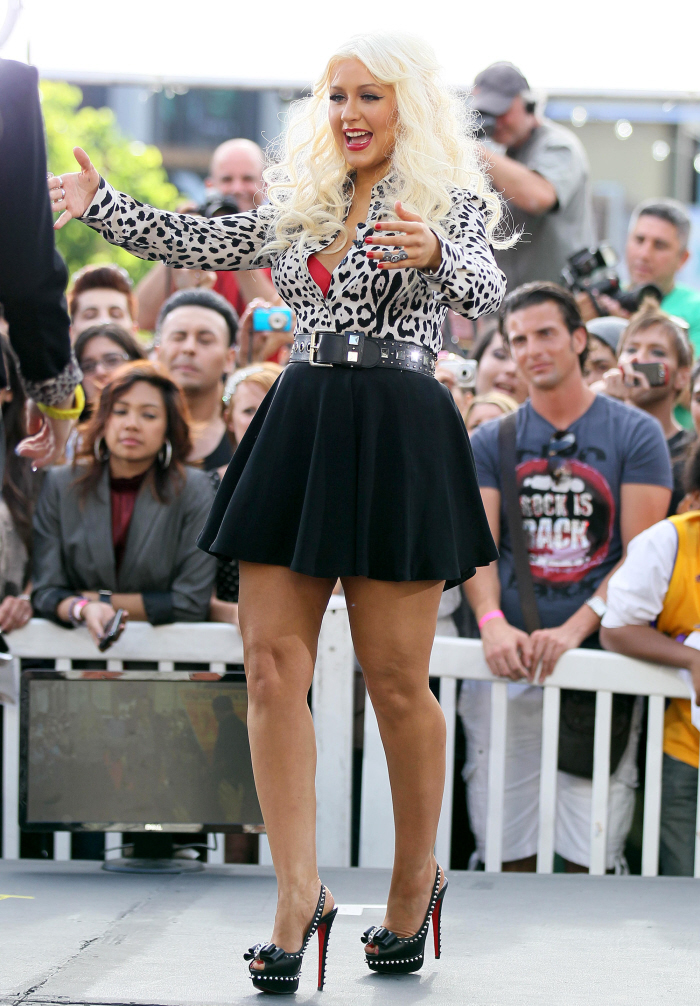 I don't even have words for how awful Christina Aguilera looks in these photos. I mean, over the past few years, we've seen Christina looking pretty rough, but for the most part, she looks like ten kinds of hell in candid photos, as she's stumbling out of some bar or event. With the exception of the Burlesque world tour (in which Christina looked progressively worse for each new city), I feel like Christina actually tries to pull it together for formal appearances, like red carpets and sit-down interviews. Not anymore. These are photos of Christina doing an interview for Extra at The Grove. It became a big media event, just like Christina knew it would be. So this is how she chose to present herself - short skirt grazing her thighs, red bra hanging out, face freshed orange'd, white-blonde hair frazzled and gross. It's all so… horrible. Made worse by the fact that Christina's Drunk-Face says to me "I look fabulous and gorge!!" Even drag queens are like "Girl, take it down a notch."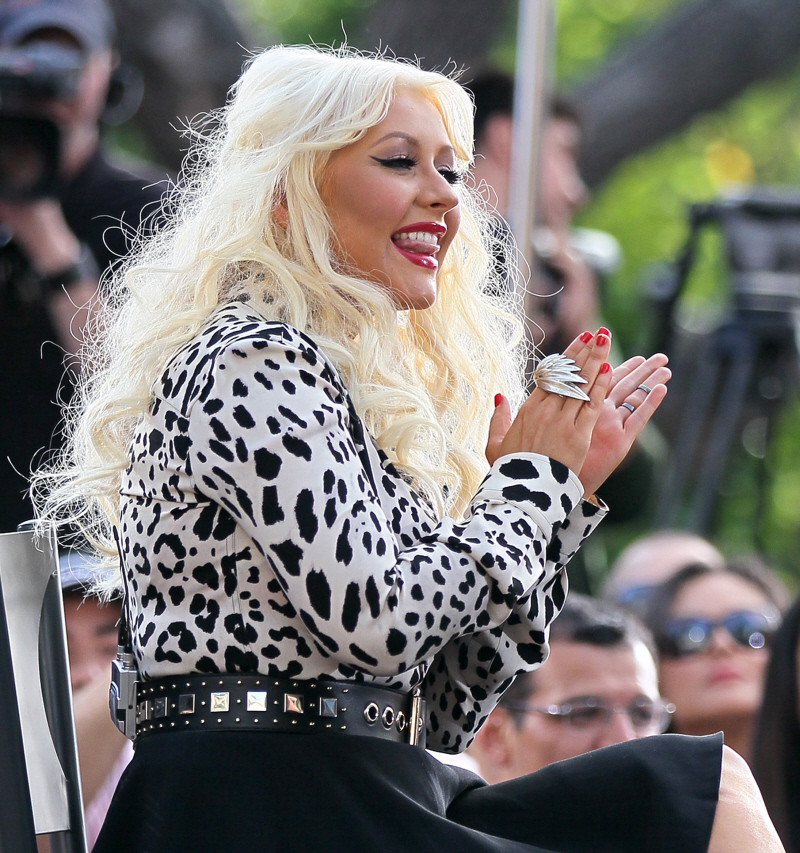 Look, I'm not yelling at her for gaining weight, I'm really not. I have the same problem with Christina that I have with Jessica Simpson when Jess gains weight - neither woman knows how to dress appropriately for their bodies. When Christina puts on 10-20 pounds of liquor and cupcake bloat, that's the time to put away the miniskirts and button up the shirt (just a few more buttons). Wear a pair of flattering pants, for the love of God. Try a pencil skirt - it really flatters an hourglass figure. And dear God, please do something with the orange skin and what I'm praying is a wig or a weave disaster and not her real hair.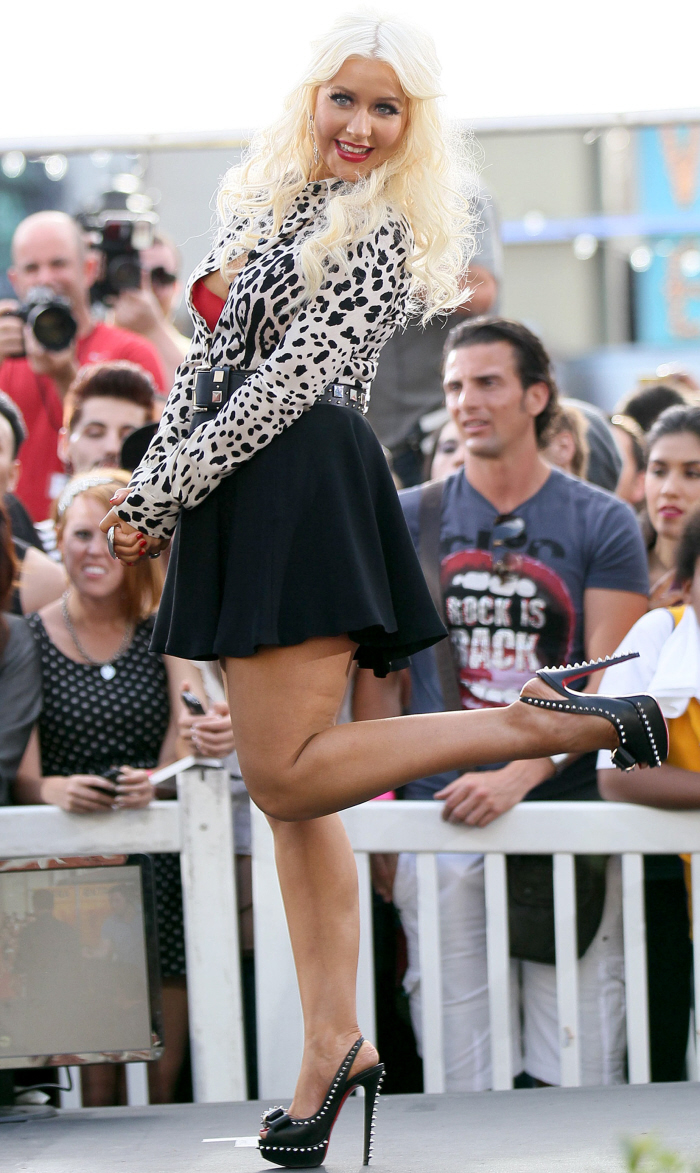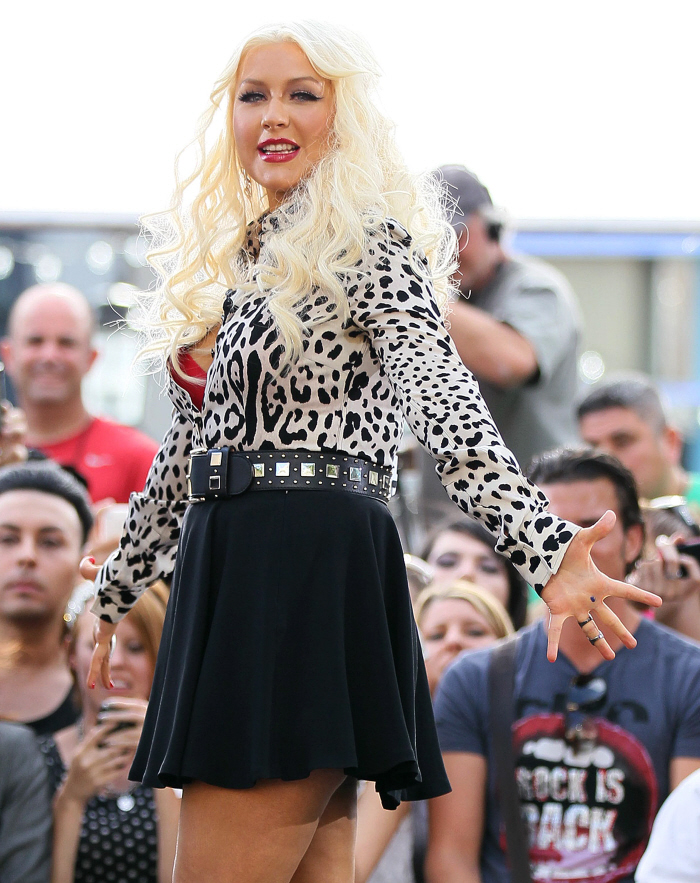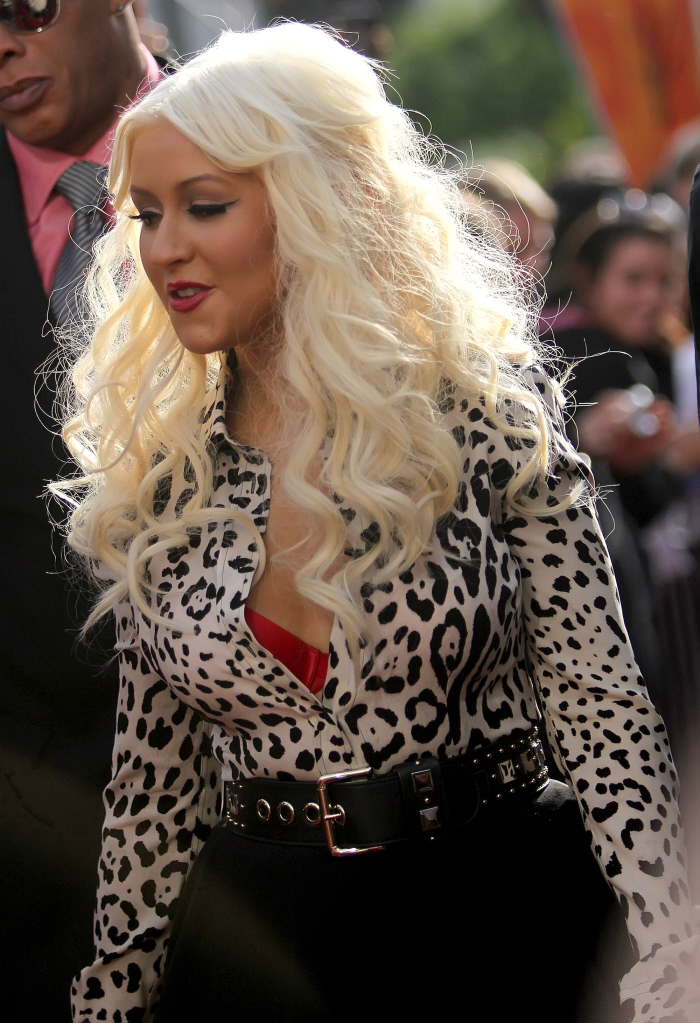 Mila Kunis in Givenchy at the Guys Choice Awards: lovely or too dressed-down?
Posted: 05 Jun 2011 07:16 AM PDT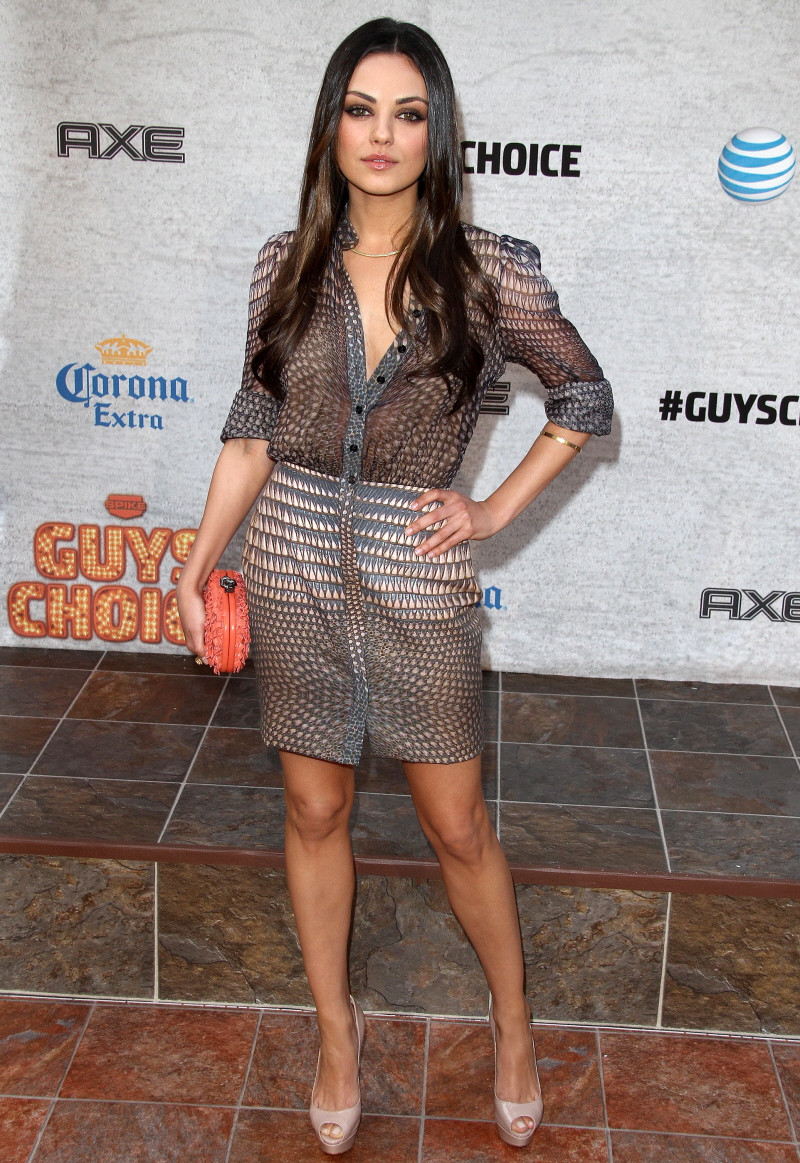 Here are some additional photos from last night's Guys Choice Awards. Unfortunately, neither Cameron Diaz nor Jennifer Aniston walked the red carpet, so you'll just have to go here to see those photos. We do have pics of cutie Mila Kunis, a newly brunette Rosie Huntington-Whiteley and Minka Kelly, amongst others. First up: Mila! The outfit is Givenchy… it looks like Missoni, though, doesn't it? It's cute, but perhaps not as dressy as the event called for? Still, Mila was one of the prettiest girls at the event.
Justin Timberlake was there, of course. I imagine he was hitting up all of the single ladies. Probably divided his time between Mila and ScarJo: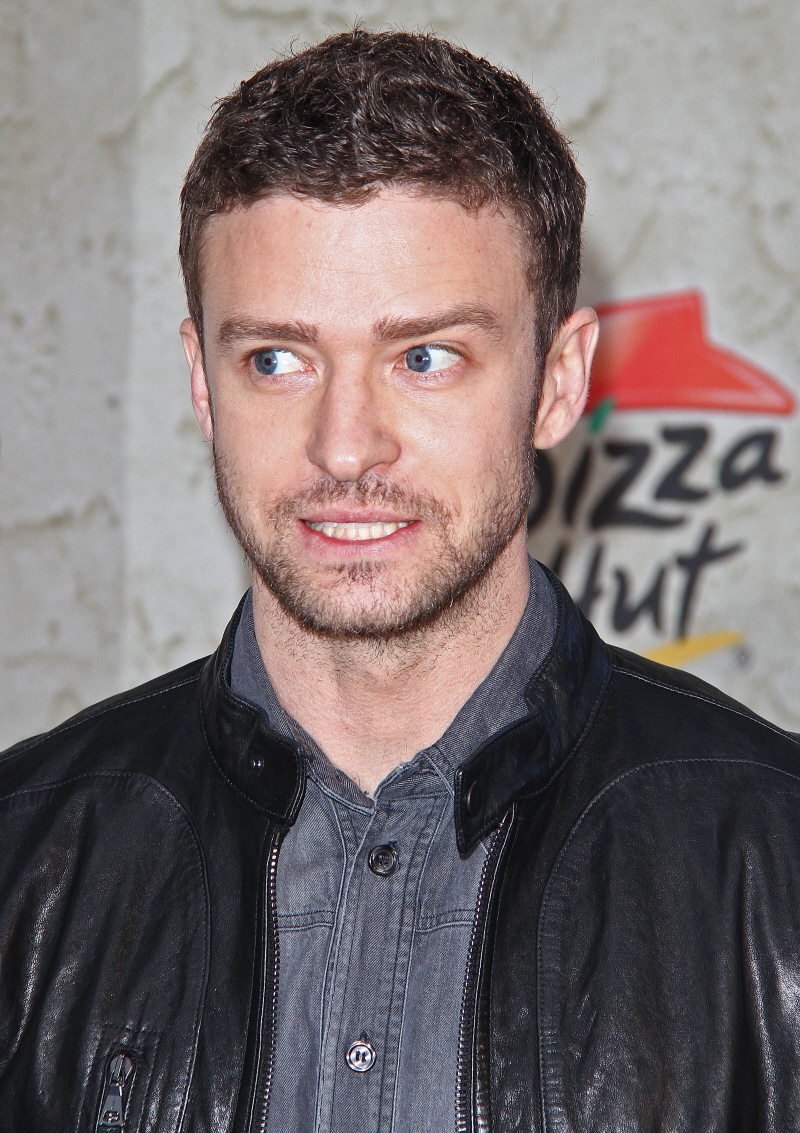 Next up: Rosie Huntington-Whiteley and her boobs and her newly brown hair. While I think the brunette looks nice on her, she doesn't look as "striking" without the blonde. With this hair color, she doesn't really stand out, does she? And that The Row dress is weird. It's like the dress couldn't decide if it wanted to be a full-length gown or a breezy summer dress.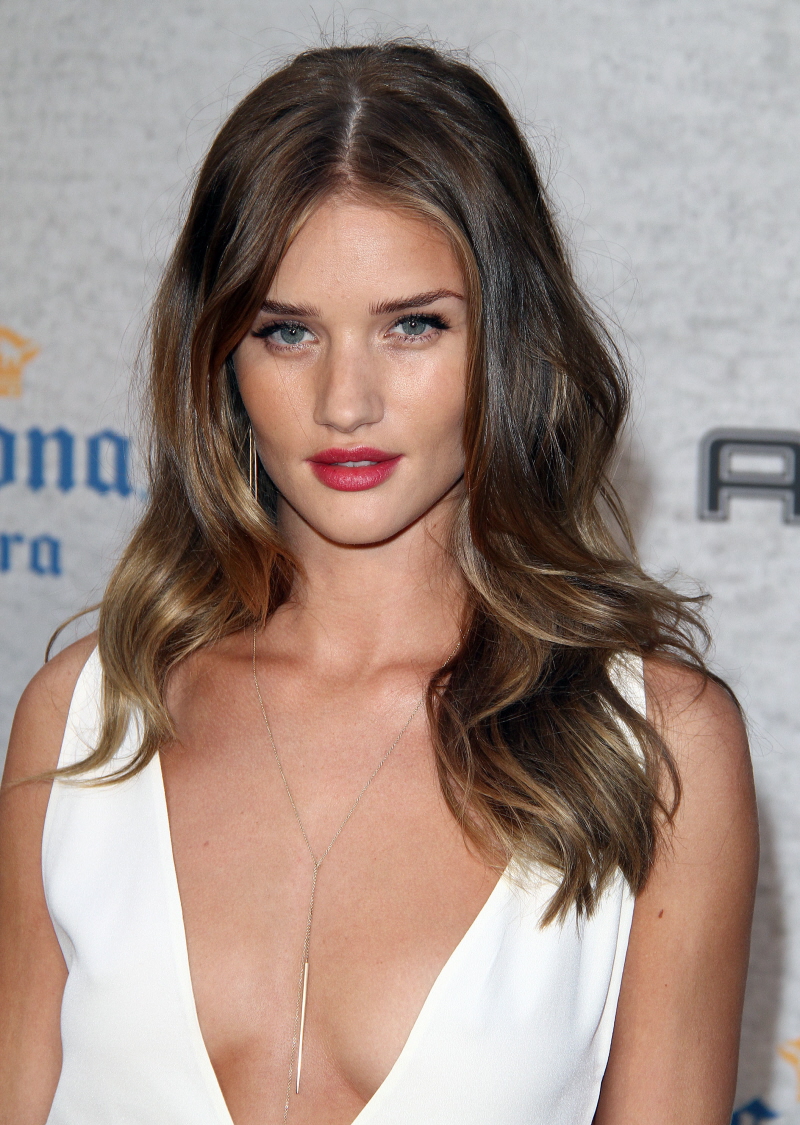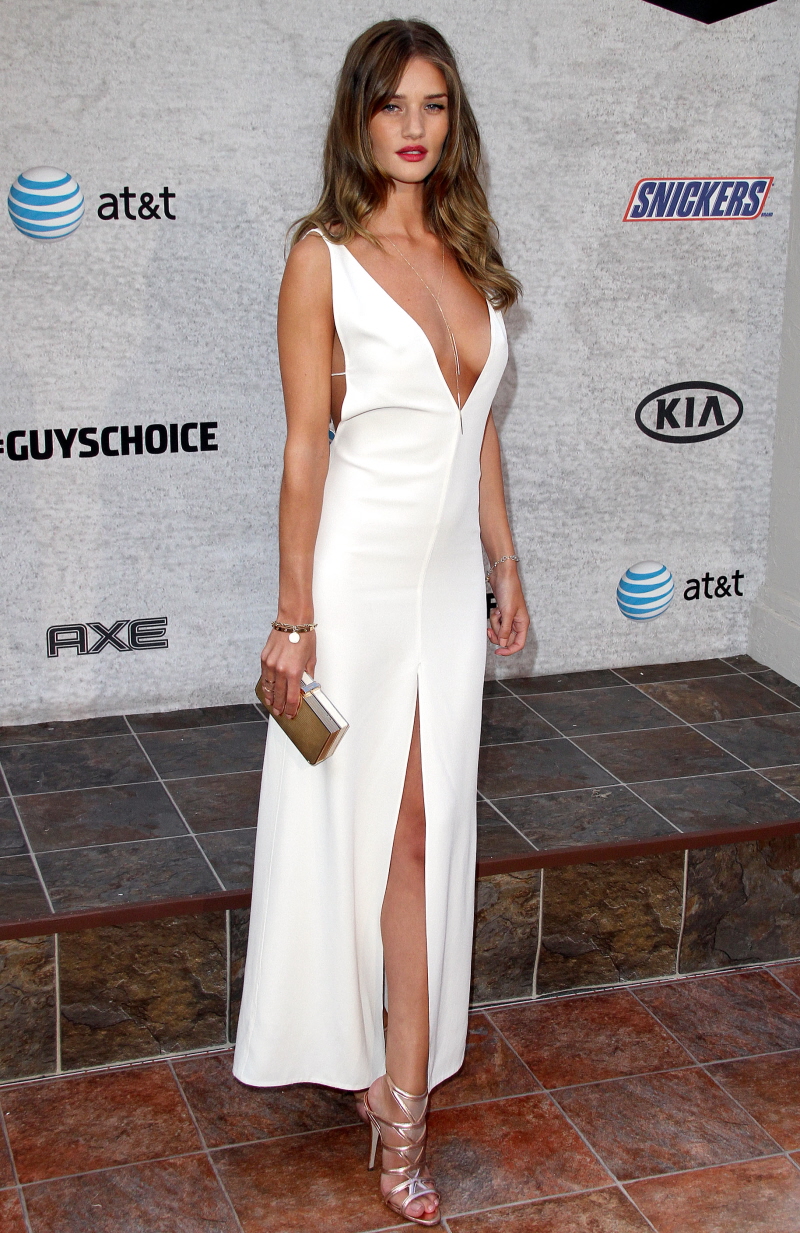 And here's Eva Mendes in Roland Mouret. Meh. Pretty color, but it's the wrong dress on the wrong girl.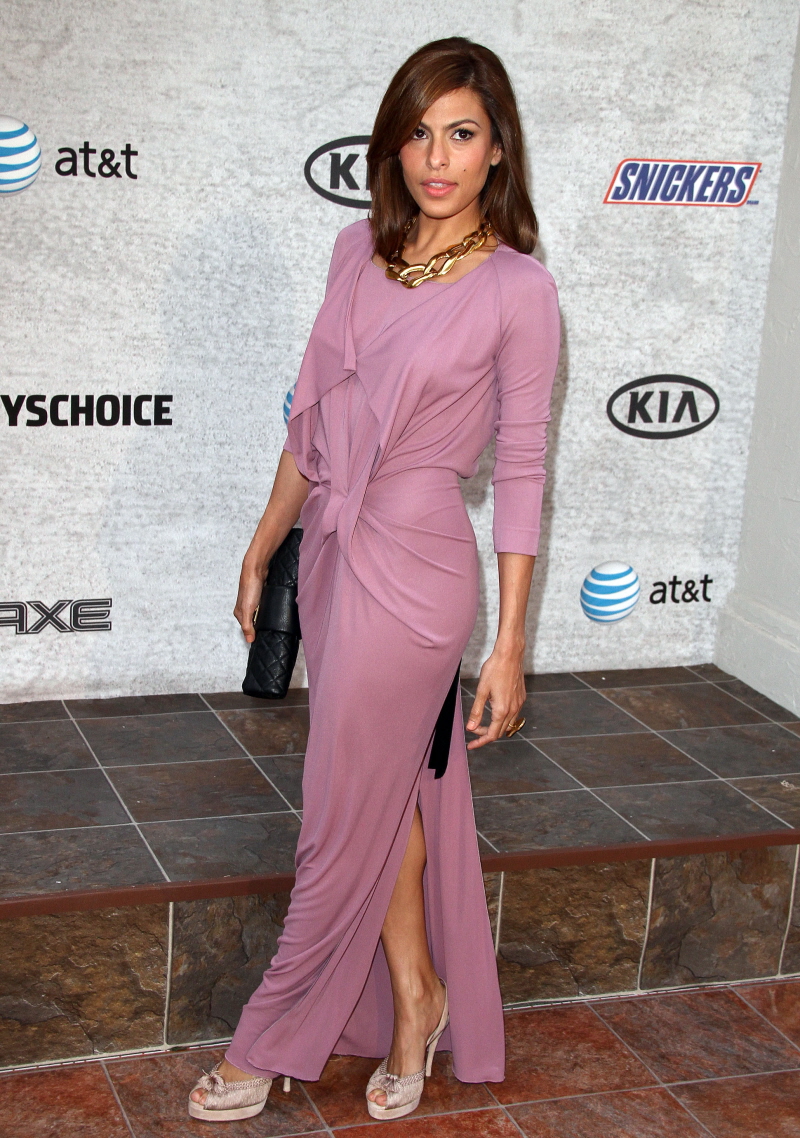 And finally, Minka Kelly in Nicole Miller. She's a pretty girl, but this dress is really boring.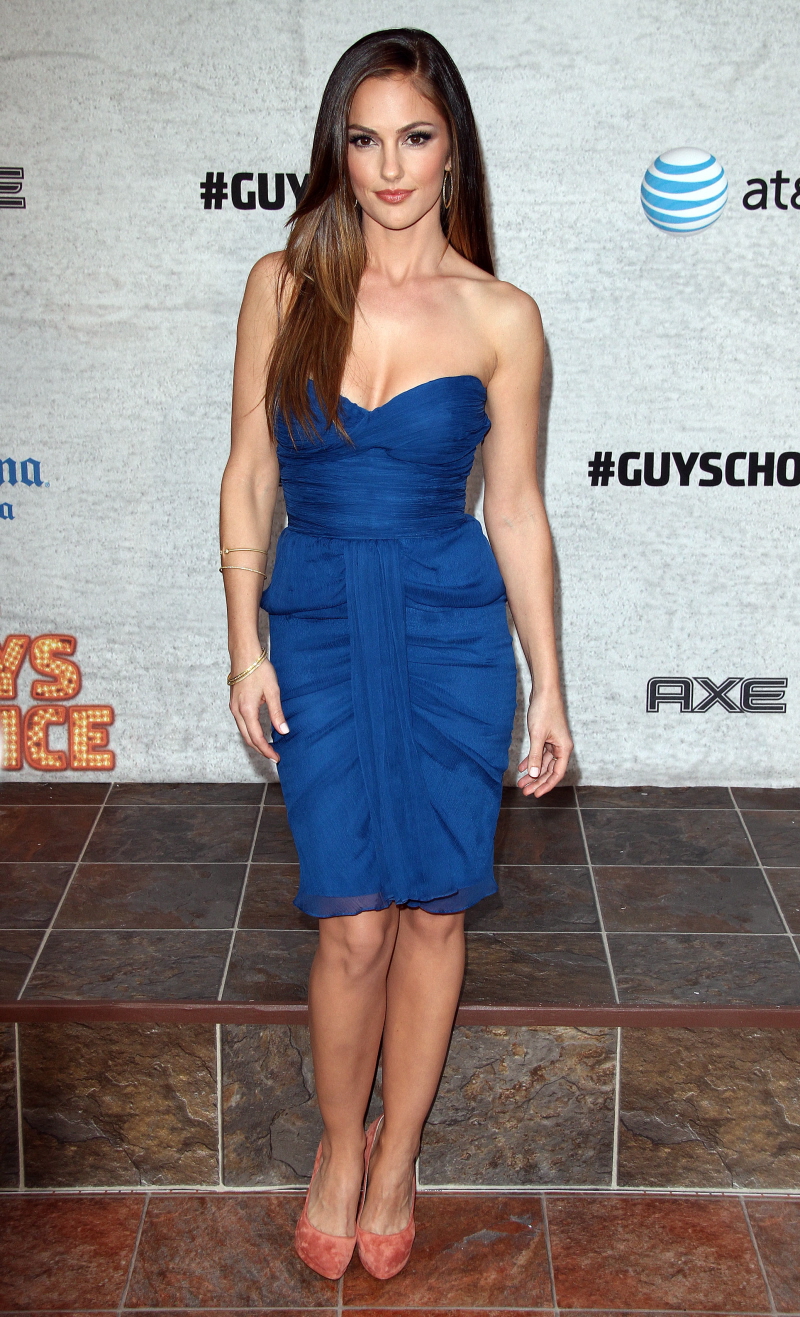 You are subscribed to email updates from Cele|bitchy
To stop receiving these emails, you may unsubscribe now.
Email delivery powered by Google
Google Inc., 20 West Kinzie, Chicago IL USA 60610