---
SPOTTED: Rihanna Reps For Her "Navy" & Lands In Toronto For "LOUD" Tour
Posted: 06 Jun 2011 08:28 AM PDT
Rihanna was spotted arriving in Toronto, Ontario, Canada yesterday where she will be performing a series of shows as part of her "LOUD" tour. Deets inside...
Wearing a navy blue "Rihanna NAVY" sweatshirt, Rihanna was spotted in Toronto yesterday.
Shortly after her arrival she tweeted: I miss u already!!!! Toronto....its me and U tomorrow!!
She rocked her Rihanna Navy hoodie to rep for her fans.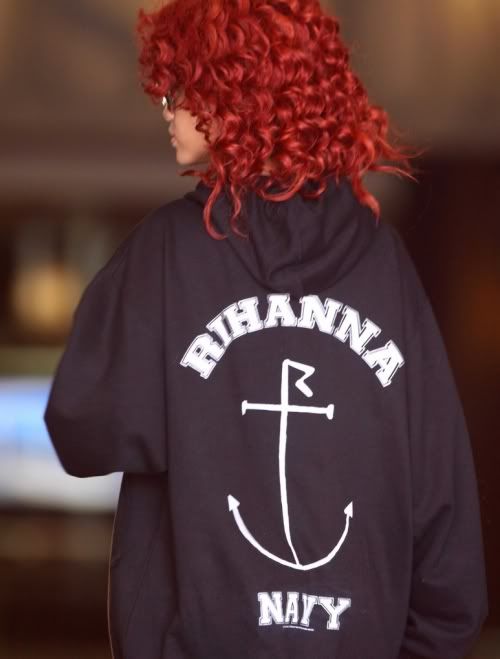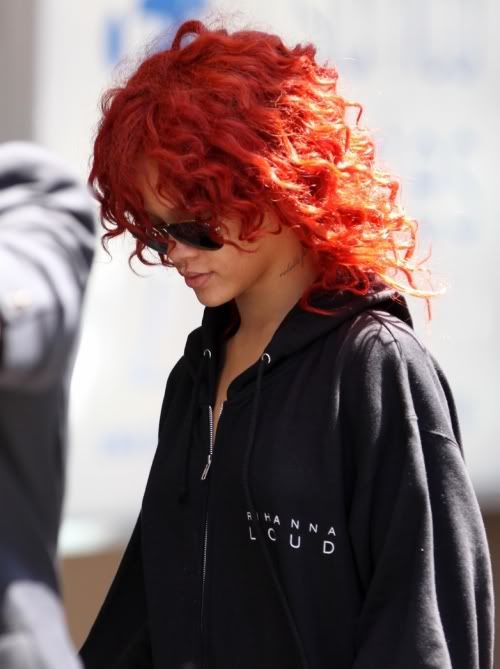 While on tour, Rihanna continues to lend a helping hand to various charities. Most recently, she teamed with 50 Cent to solicit bone marrow donors for one-year old Ayelet Galena.
Photos via O'Neill/White/INFphoto.com
MOVIE FAB: "X-Men: First Class" Debuts At Number One With $56 Million
Posted: 06 Jun 2011 07:37 AM PDT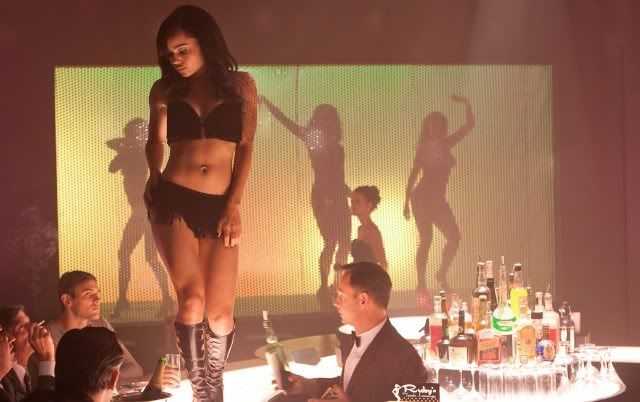 YBF chick Zoe Kravitz, James McAvoy and Michael Fassbender have a lot to celebrate as their film, X-Men: First Class, debuted at number one taking in $56M this weekend. Deets inside...
The Twentieth Century Fox film X-Men: First Class took in $56 million domestically, landing in the number one spot at the box office. And the impressive numbers extended to other countries too. Around the globe, the film grossed $64 million (from 74 countries) for a worldwide take of $120 million.
I'm sure Zoe and her co-star boo Michael are happy about it. Congrats to the cast!
Chris Brown, Mister Cee, Wiz Khalifa, Swizzy, Drake, Rick Ross & Tons More Hit Up Summer Jam 2011
Posted: 06 Jun 2011 07:18 AM PDT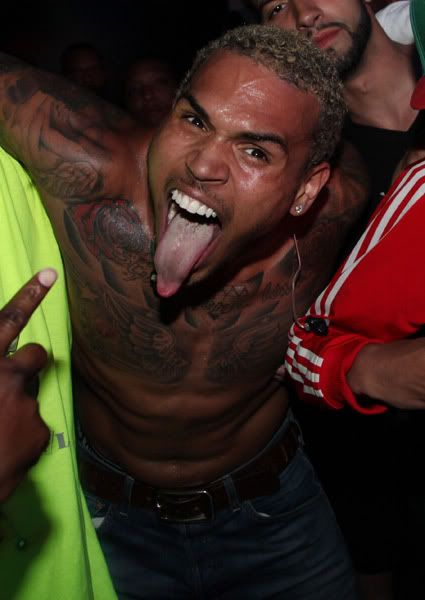 Chris Brown ripped off his shirt--but this time not in anger--backstage at Hot 97's Summer Jam 2011 at Giants stadium at the Meadowlands in New Jersey yesterday. It's one of the New York area's biggest summer concert that almost every rapper and hip hop artist rolls through.
We've got pics of Chris burning up the stage and backstage, Hot 97 DJ Mister Cee bravely showing his face, YMCMB, the Maybach Boys, Lloyd, and tons more, when you read on...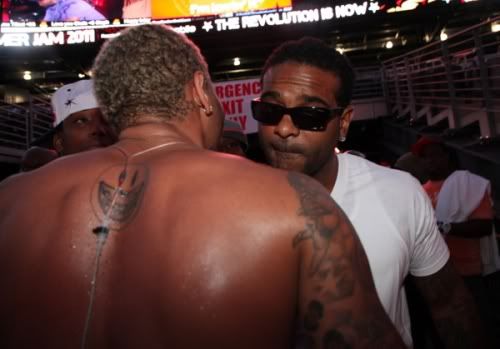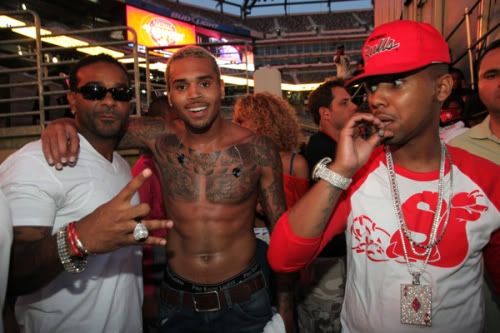 Breezy, who just copped this new smiley face tatt on his back, kicked it with Jim Jones and Juelz Santana.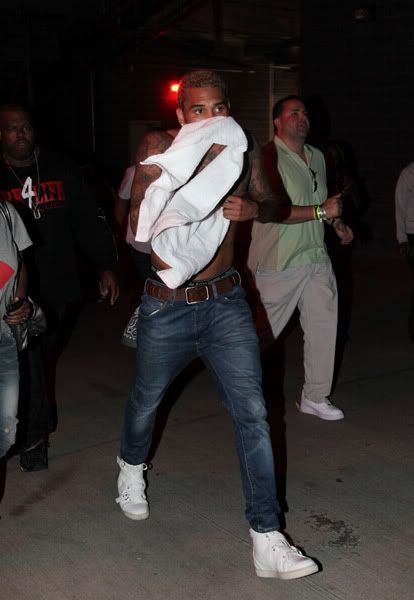 Busta Buss.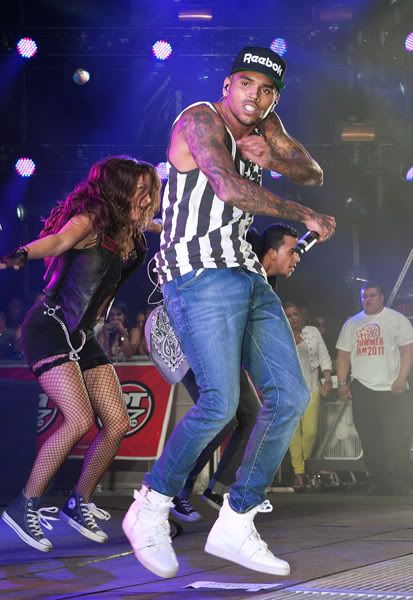 He hit the stage in stripes.
And so did Lil Wayne: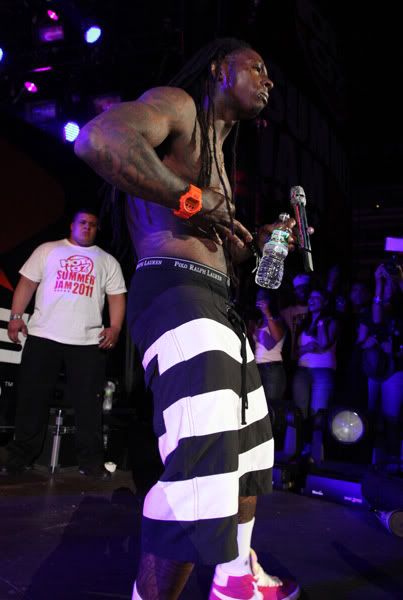 Lloyd hit the stage to perform his singles: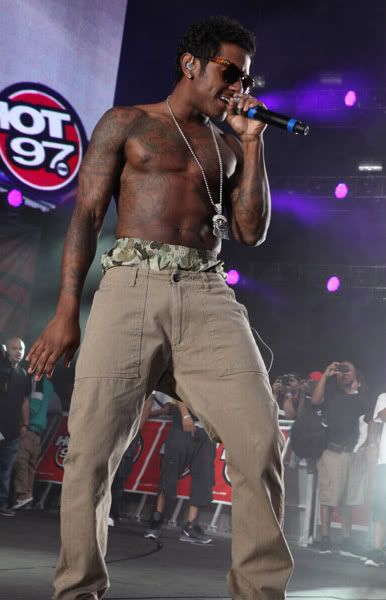 And so did Lloyd Banks.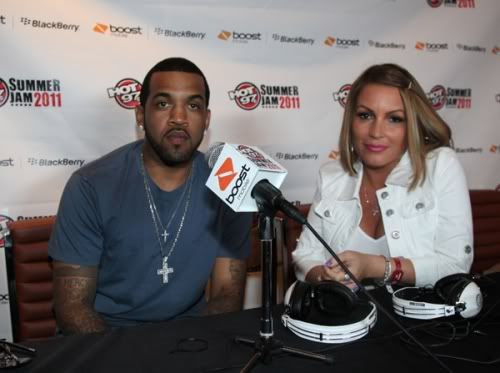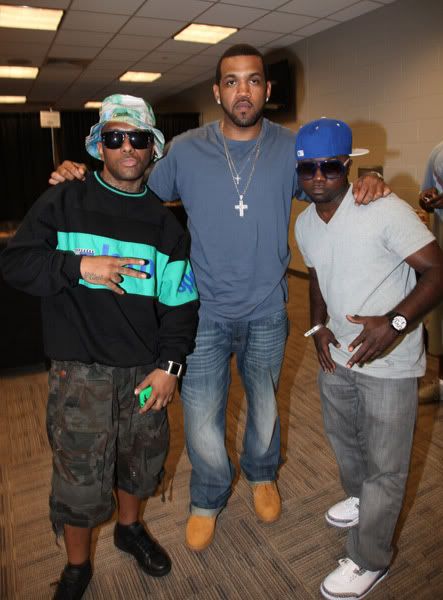 He kicked it backstage with Hot 97's Angie Martinez and Prodigy and Havoc of Mobb Deep.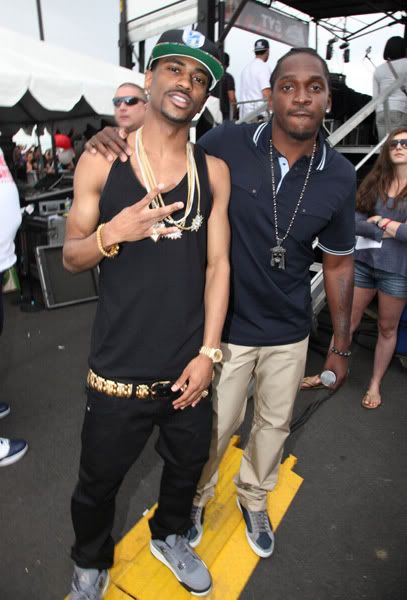 Big Sean and Pusha T were backstage.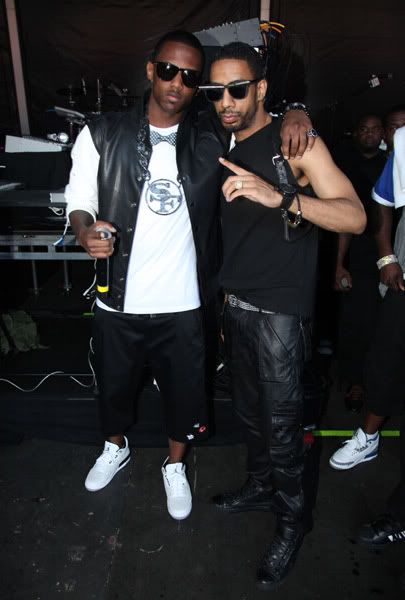 Ryan Leslie.....really? Anywho, he kicked it with Fabolous backstage.
Swizzy performed his million songs solo and with others.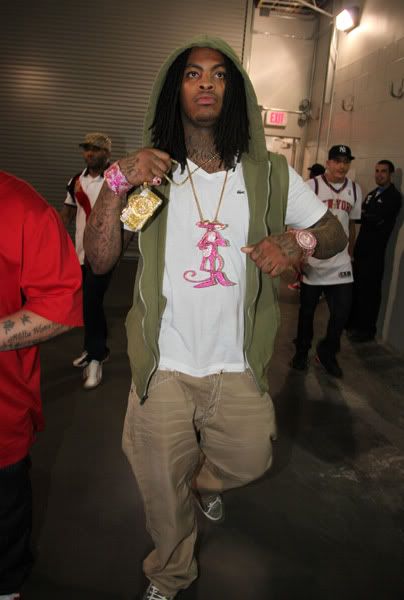 Waka Flocka still looks slow.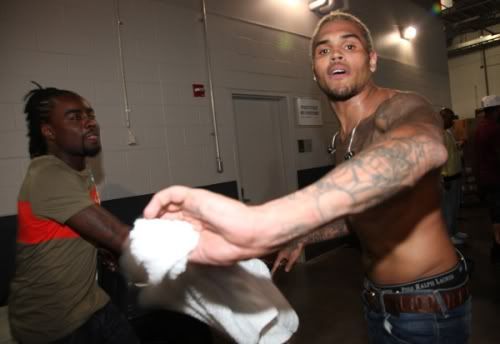 And Wale kicked it backstage with Breezy and Swizzy.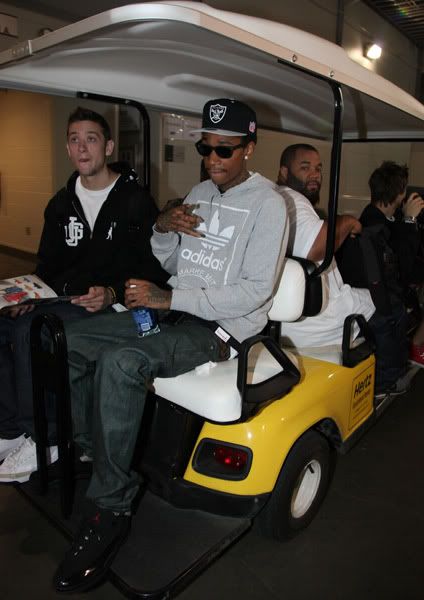 Oh hey Wiz Khalifa. This denim button down and khaki colored skinny jeans ar killing me softly. But do you boo.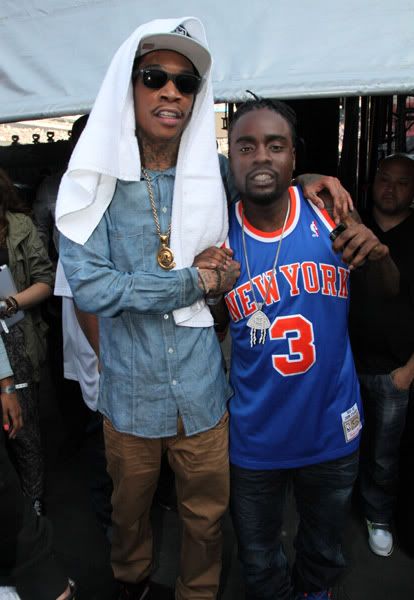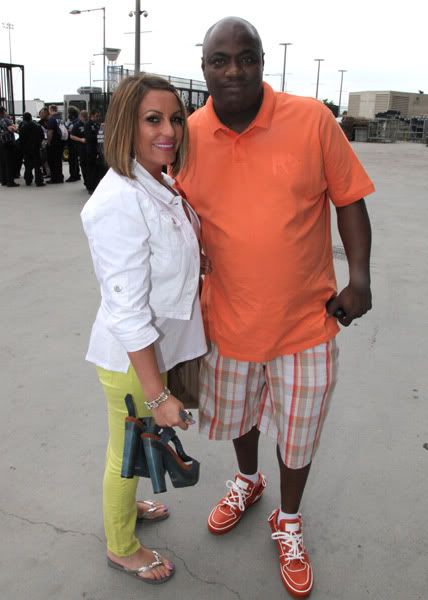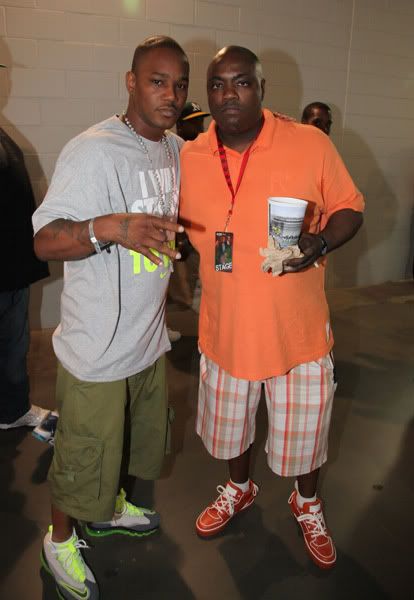 Mister Cee snapped some pics with his homies Angie Martinez and Cam'Ron.
Vado and Funkmaster Flex popped up for some pics.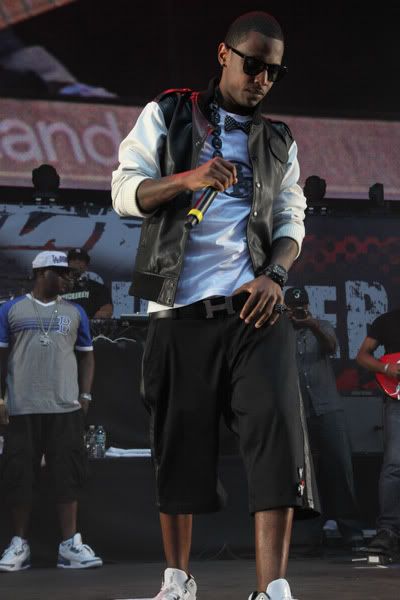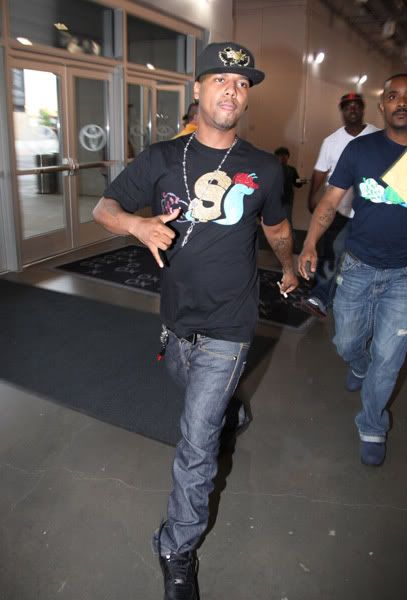 The Dipset Boys took the stage.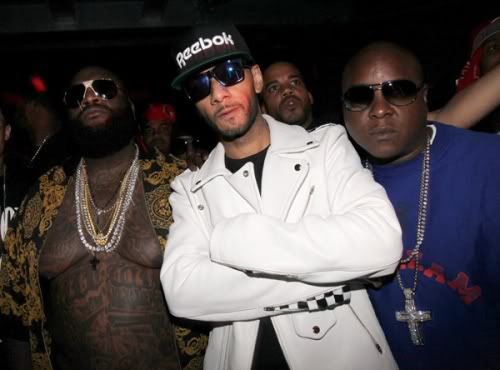 Damn you Ricky Ross and these open jackets. Oh, hey Jadakiss.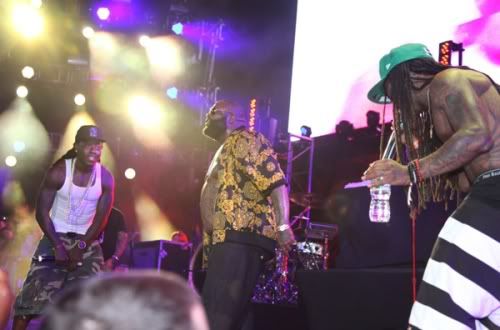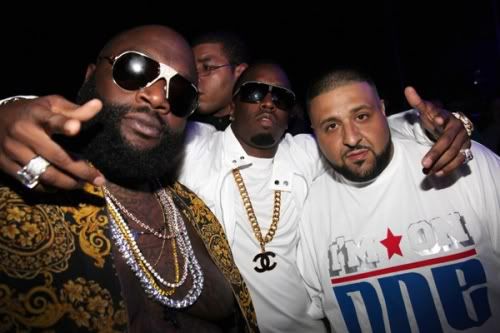 Y'all know Diddy got in the mix too.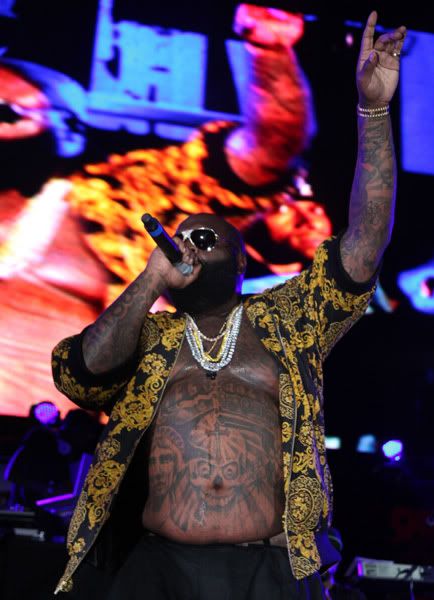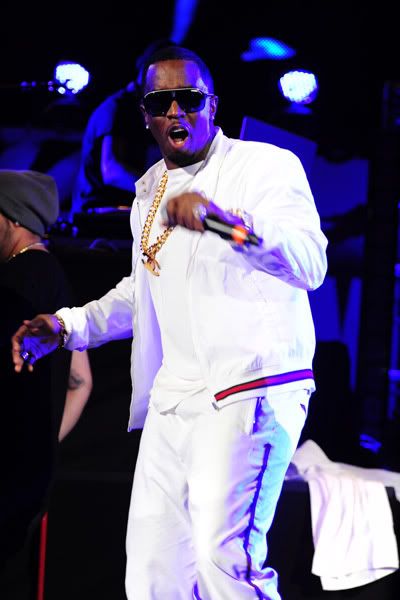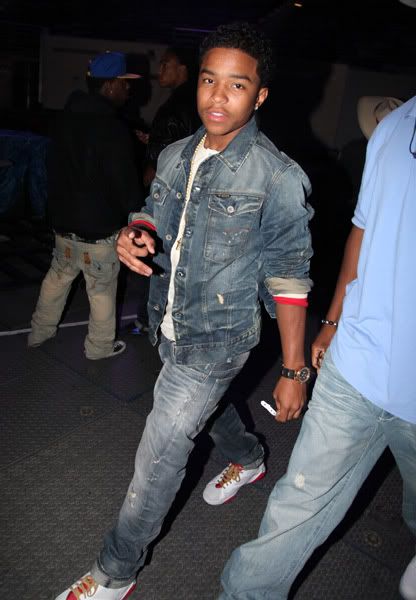 His son Justin Combs was there as well.
Drake hit the stage in a Versace sweatsuit.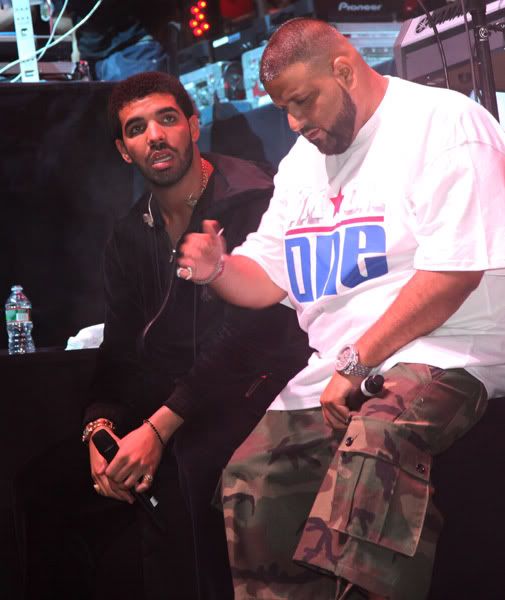 And here's video from the AllEyesOnWho folks of Weezy, Ricky, Drizzy, and DJ Khaled performing their "I'm On One" track:
I'S FREE NOW: Plaxico Burress Released From Jail After 20 Months Served
Posted: 06 Jun 2011 07:07 AM PDT
Former NY Giants Super Bowl hero Plaxico Burress was released from the Oneida Correctional Facility today after serving 20-months stemming from a felony gun possession charge. Deets inside....
Plaxico Burress is a free man today, having served time for a felony gun possession charge.
We told you previously that Plaxico went to a Manhattan nightclub called the Latin Quarter with an unlicensed gun tucked inside sweatpants. At some point during the evening, the gun went off, and a bullet went into his thigh. With NY having some of the most stiff gun laws in the country, Plaxico was arrested and plead guilty to a felony gun possession charge. He was sentenced to two years in jail.

So what's next for him? Although the NFL lockout is still in place, Plaxico's agent, Drew Rosenhaus, told The Associated Press that he will get back into football shape and make a comeback. "He will play in the NFL this year," Drew said.
In the meantine, Plaxico returns home to his wife Tiffany, 4-year-old son, Elijah, and year-and-a-half old daughter, Giovanna, who was born while he was incarcerated.
Kelly Rowland's OFFICIAL "Motivation Remix" Ft. Trey Songz, Busta Rhymes, & Fabolous
Posted: 06 Jun 2011 05:48 AM PDT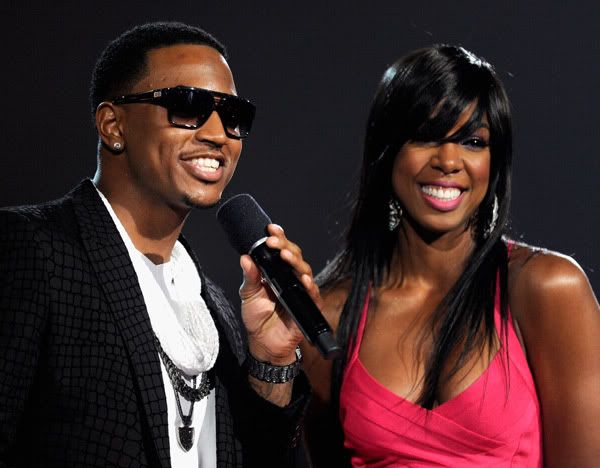 Kelly Rowland just got herself an official remix for her #1 "Motivation" track. It seems like everybody's hopped on one of the hottest tracks of this year. But Trey Songz, Busta Rhymes, and Fabolous' version gets the "official" title. Check it under the cut...
It's pretty hard to mess up a track this hot. So we're feelin' the fellas' version that still features Kelly's voice of course. Check it.
RED CARPET FAB: 2011 MTV MOVIE AWARDS
Posted: 05 Jun 2011 07:25 PM PDT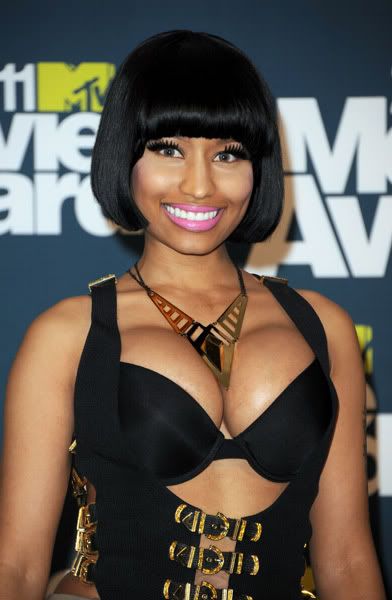 The 2011 MTV Movie Awards went down Sunday night in Los Angeles. We've got pics of the black-bobbed Nicki Minaj, the blonde-bobbed Lil Mama, and Trey Songz, Lupe, and Tyrese. Check out their red carpet and press room pics inside....
The 2011 MTV Movie Awards were held tonight at the Gibson Amphitheater and hosted by Jason Sudeikis.
Nicki Minaj and her massive attack of a push-up bra hit the press room after presenting the award for Bet Female Performance (which went to Twilight's Kristen Stewart) with Ashton Kutcher: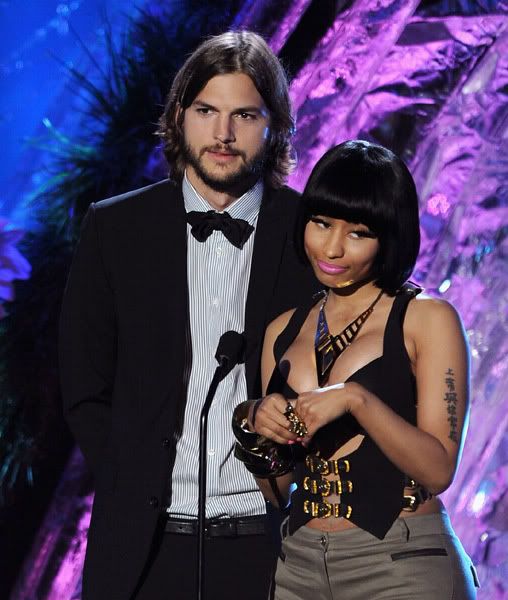 She rocked ankle length khaki pants by Gianmarco Lorenzi with a Versace Atelier vest and bra underneath and sparkly peep-toe wedges. Her typical look that we're still not feeling as it just feels incomplete. But the makeup is cute as usual.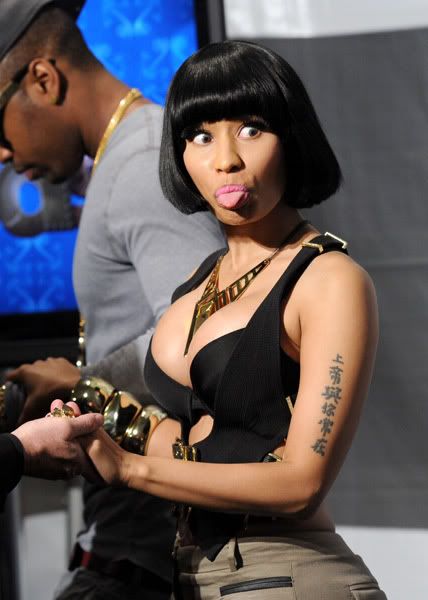 She got silly backstage with her fans.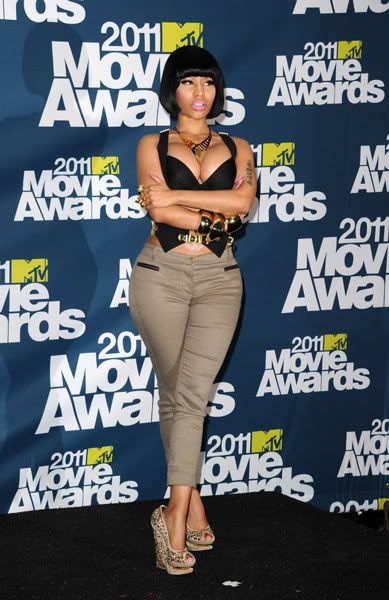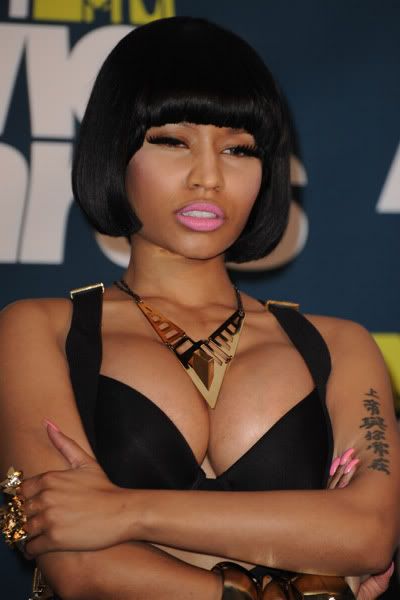 Trey Songz hit the press room with Lupe Fiasco after their performance of "Out Of My Head":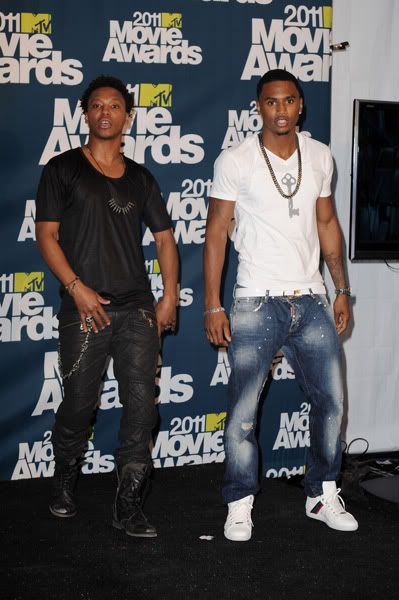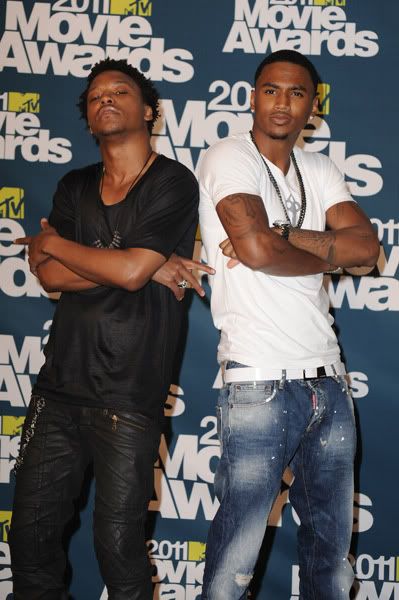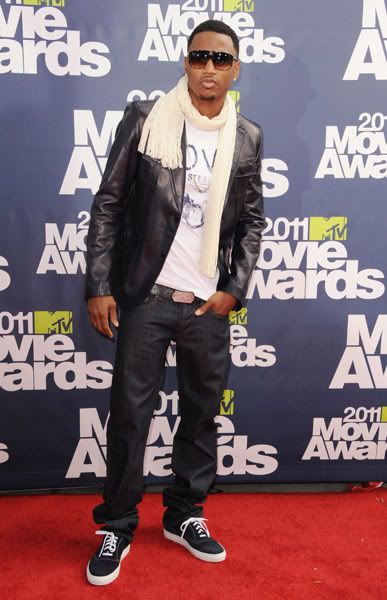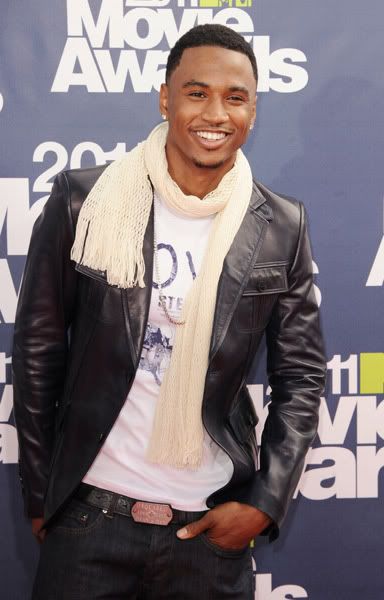 And Trey hit the red carpet beforehand....in his leather jackt in scarf.
It's almost like Nicki Minaj and Lil Mama dipped into each others' wig crypts for the night. The "ABDC" host busted ut a short bleached blonde bob for tonight's Awards:
Lil' Mama stepped her fashion game up in this Sherri Hill Fall 2011 black embellished mini dress.
Finally.....I think homegirl got it right. The look aint for everybody. But it works for her.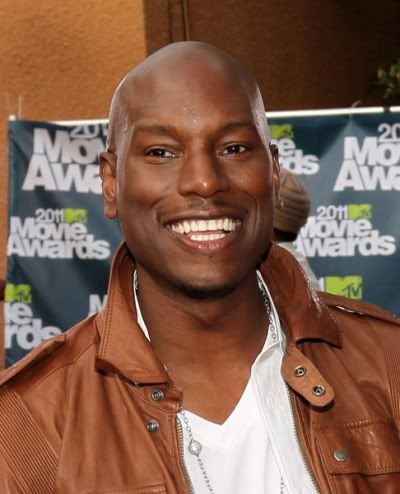 Tyrese, star of the upcoming latest Transformers installment, rocked a casual look...but he looked hot as usual.
Jessica Szohr from "Gossip Girl" dazzled in a paisley palazzo onesie courtesy of Alice + Olivia. And she paired it with a metallic clutch. The look is hard to pull off but she looks cute.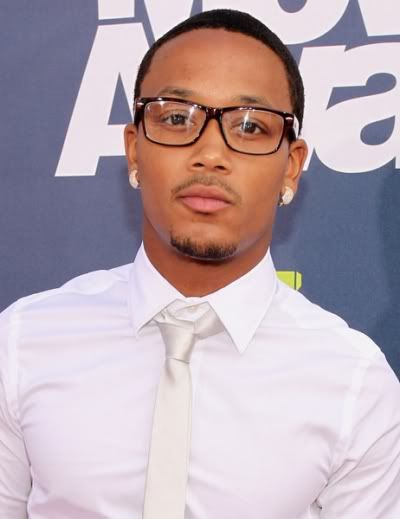 And "DWTS" rapper Romeo was there looking handsome.
WEDDING FAB: Monica & Shannon Brown's New Wedding Invitations
Posted: 05 Jun 2011 05:20 PM PDT
Though Monica and Shannon Brown are already married, they sent out 300 wedding invitations this week for their second ceremony. The first ceremony happened back in January in secret...with only their families in tow. The couple is now inviting family and friends to a fabulous wedding ceremony on July 9th where the couple will exchange vows again.
Check out the invites inside....
Monica and Shannon's invites were designed by Sandi Spells Designs, of College Park. She spoke to V-103 saying,
"I would say this is probably the most extravagant I've created. Definitely the heaviest. I've used acrylic and fabric before, but this is all acrylic. And usually something like that takes a month. But when she called, I just had an idea for the whole project."
And here's what some folks received in their mailboxes over the weekend: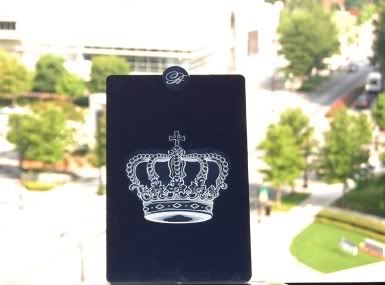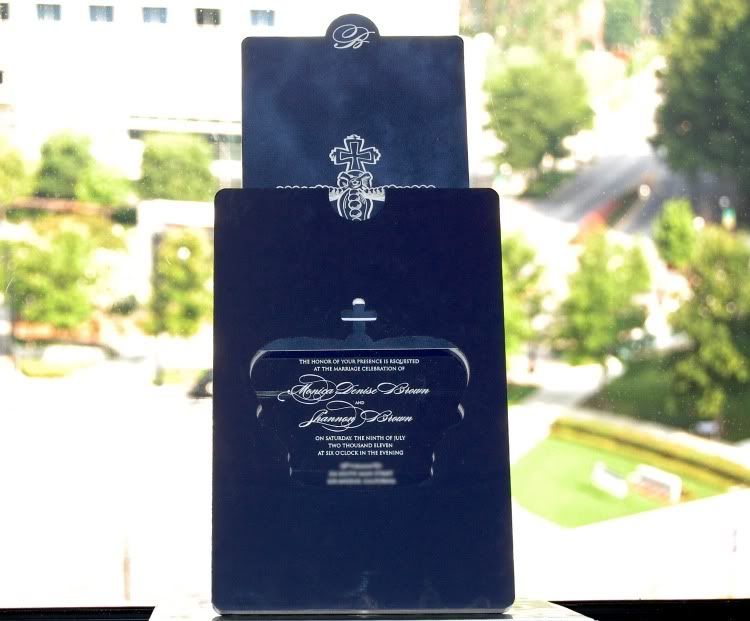 Watch V-103's Ryan Cameron open the invite here:

I wonder which basketball wives she invited. This could get interesting....
BABY FAB: Lauryn Hill Announces She's Pregnant Again!
Posted: 05 Jun 2011 04:25 PM PDT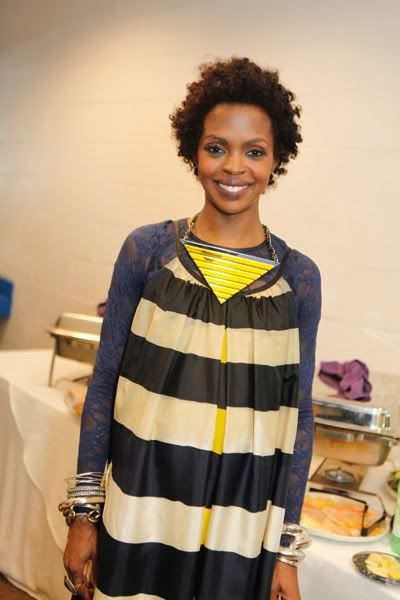 Last night during her concert in Detroit, Michigan, Lauryn Hill announced what we've been suspecting for a while now after seeing a suspicious bump in her belly. She's indeed pregnant again! Deets inside...
During a concert held at Chene Park in Detroit last night, Lauryn Hill announced that she's pregnant with her sixth child.
But our source at the concert added that the announcement was not needed:
"She's big as a house, announcements not needed. She said this was the last show on this leg of her tour because she's taking time off to give birth."
Pics from her performance: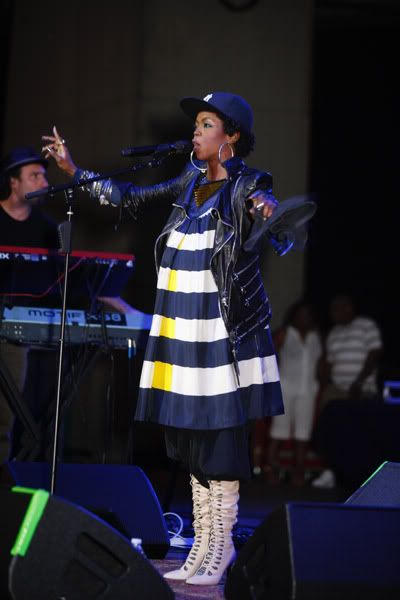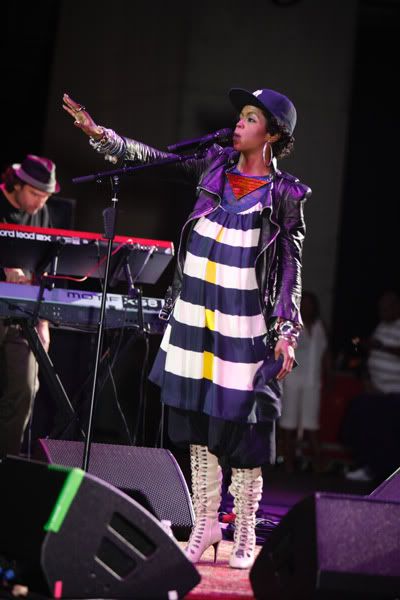 Congrats Lauryn!
WHOA: Thandie Newton Reveals Affair She Had At Age 16 With 39-Year-Old Film Director
Posted: 05 Jun 2011 12:47 PM PDT
In a recent interview, For Colored Girls actress Thandie Newton opens up about a relationship she had with a film director, who was 23-years older than her, that began when she was 16. Deets inside...
Thandie Newton has recently opened up about a devastating relationship she carried on with John Duigan, a film director 23-years older than her, whom she says coerced her into a relationship at 16.
Thandie says the six-year affair began after travelling to Australia to audition for his film Flirting, which starred Nicole Kidman.
"I was a very shy, very sweet girl. I wasn't in control of the situation. Would I have liked things to be different? Sure. 'But I can now value myself more for the way I got through it. I don't see myself as a victim.'
When asked why she never reported it to police, Thandie said,
'I am my own supreme court. I judge that one. And in a strict legal way there might not be a case. In retrospect, although it was legal because I was 16, I was coerced."
So why is the actress talking about the relationship now? She says she spoke up so "teenagers can see they can resist and gain self-awareness".
Wow. Scarily, this happens more often than not in the entertainment business. Hopefully young girls getting into the smoke and mirrors of the industry realize what's worth it--and what's not.
LONDON GIRLS: Kelly Rowland & Keri Hilson Out & About In London
Posted: 05 Jun 2011 09:22 AM PDT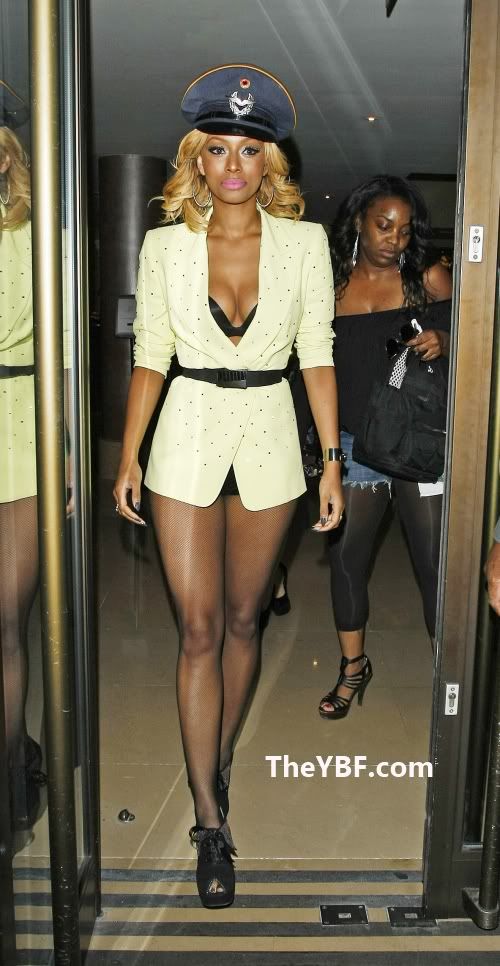 Keri Hilson is enjoying all that London has to offer. The singer was spotted going to G.A.Y nightclub last night, while Kelly Rowland caught the paps' attention as she was headed back to her London hotel. Check out the pics after the jump...
Keri Hilson was spotted leaving the May Fair Hotel to make a special appearance at Elton John's charity fundraiser at G.A.Y. nightclub.
She rocked an oversized yellow studded blazer with a peekaboo bra and a black belt that clinched her waist.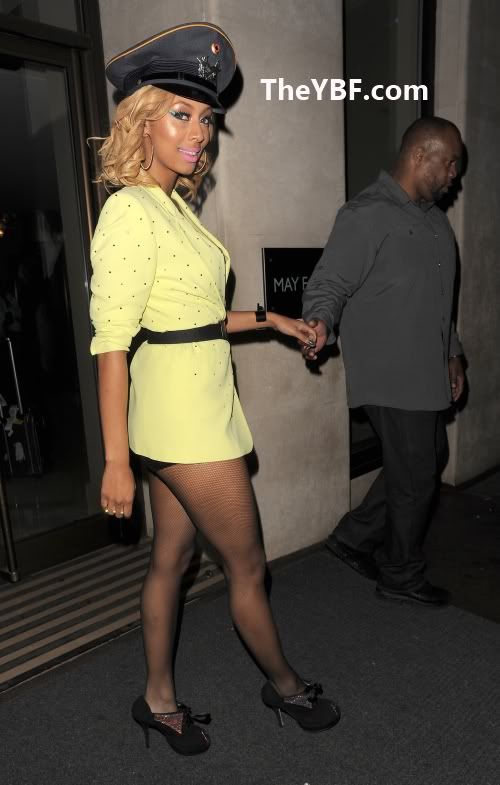 Her makeup is cute though.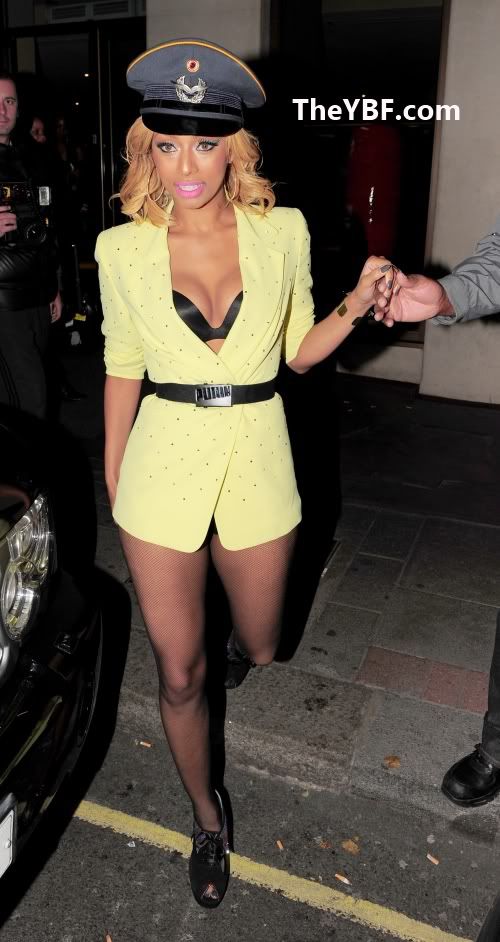 The tan and revealing outfit scream ATTENTION. But if it works for her then....
Then she hit G.A.Y.'s stage.....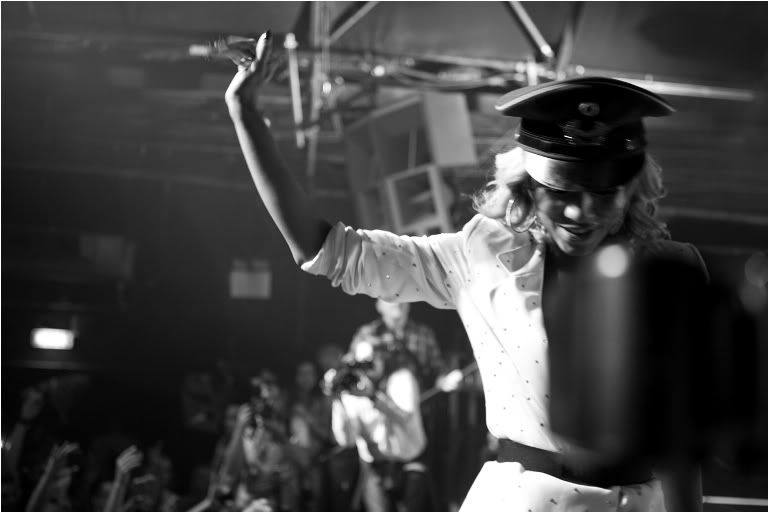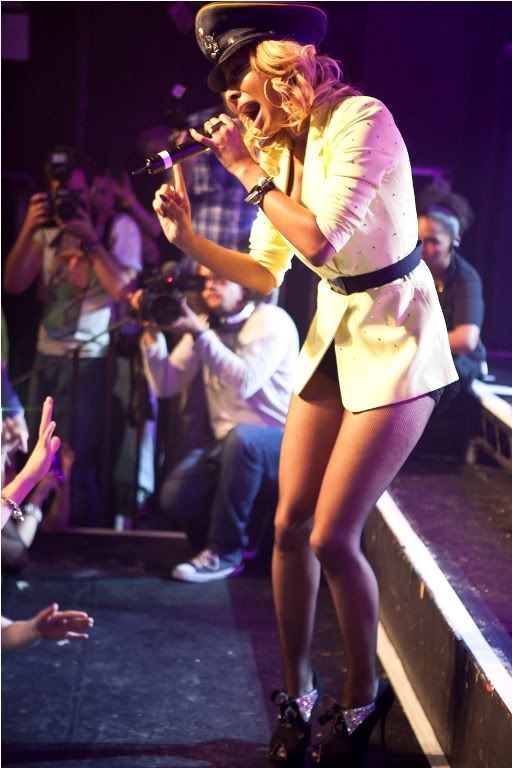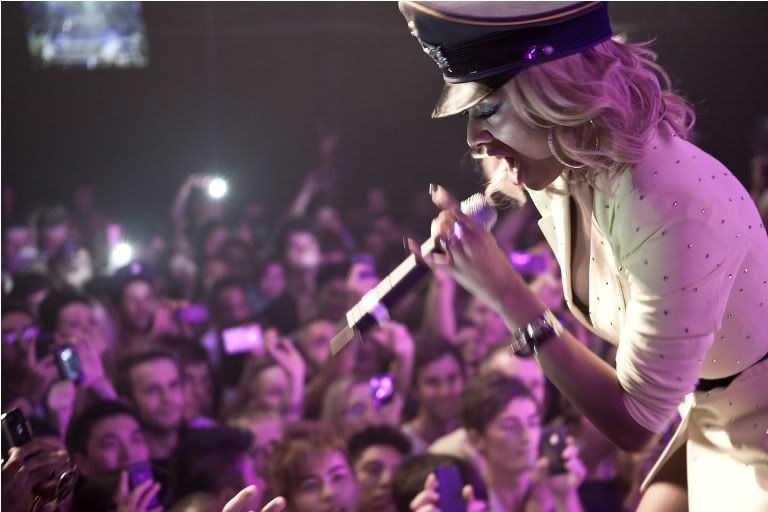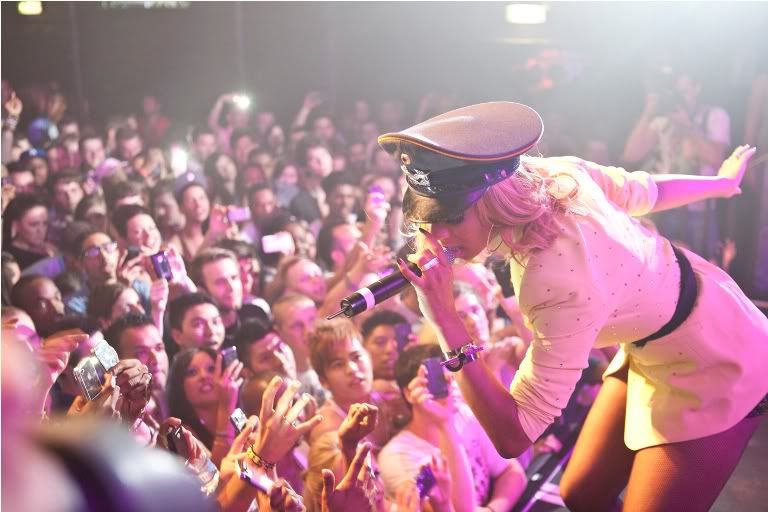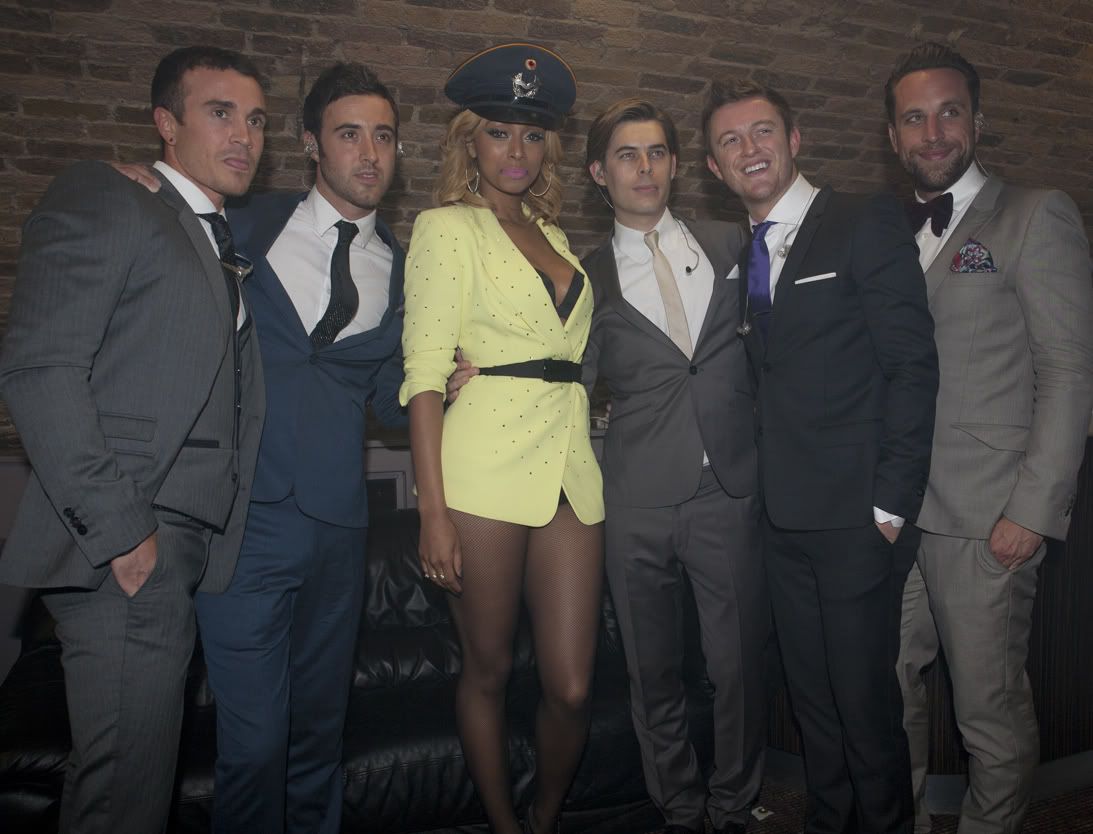 She later posed with event organizers.
Also in London.....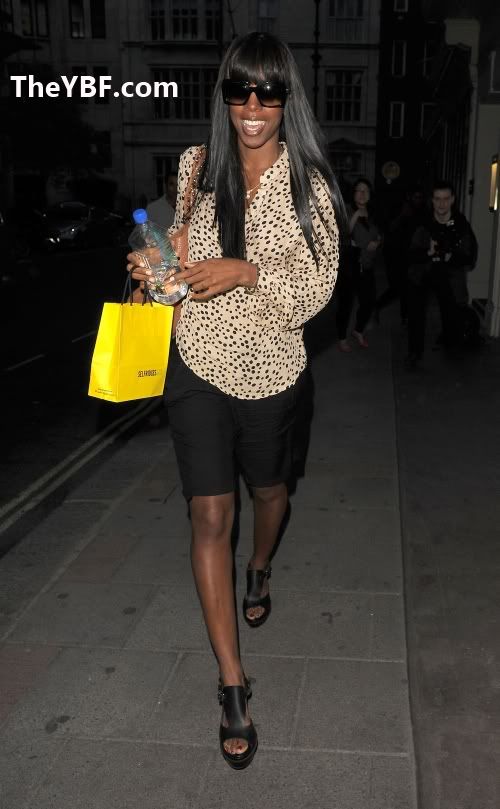 "X Factor" judge Kelly Rowland wore a laid back look as she headed back to her hotel with a Selfridges goody bag in her hand.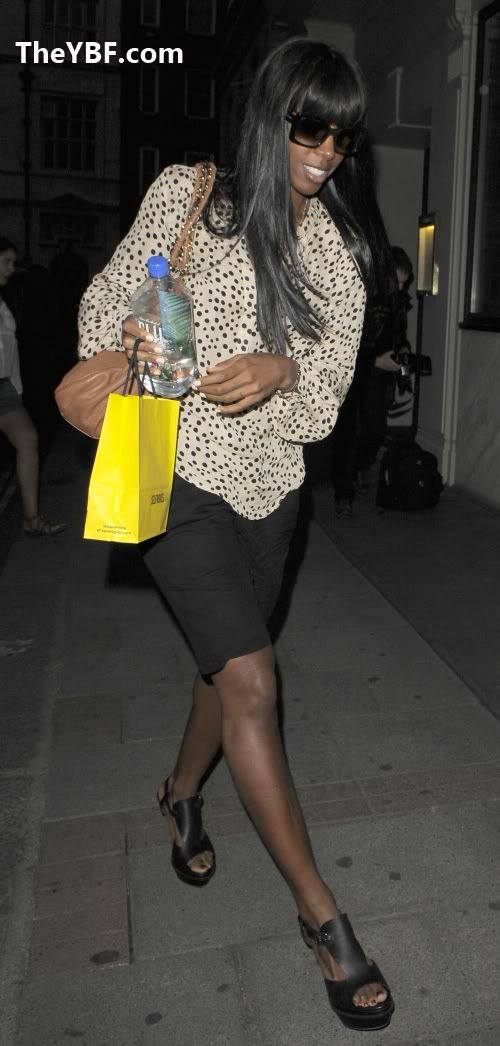 Cute look.
Pics via Tony Clark/Splash News/ Will Alexander/Benjamin Glean/UDP Media